Victoria family of dead soldier hopes inquiry helps others
Mar 27 2012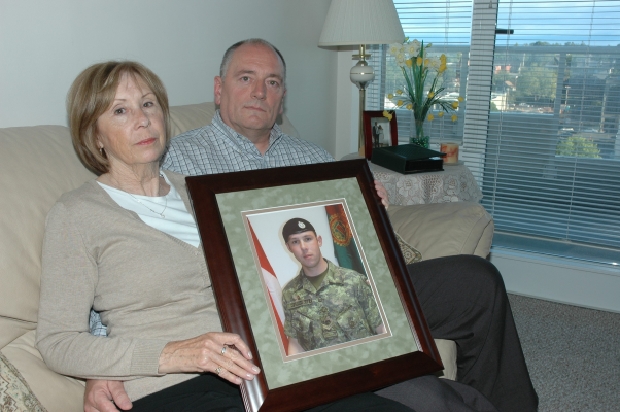 Sheila and Shaun Fynes show a photo of their son Cpl. Stuart Langridge, a Canadian Forces soldier who committed suicide.
Photograph by:
David Pugliese , Postmedia News
The Victoria family of a soldier found dead in his barracks in 2008 is relieved that a public inquiry into the circumstances of his death is going to begin today - the day after what would have been his 34th birthday.
Sheila and Shaun Fynes said their biggest hope is that some good can come from the suicide of their son, Cpl. Stuart Langridge.
"We're not wallowing in self-pity," Shaun Fynes said.
"We try and look for the positive in everything and this is a way to bring a positive from Stuart's death that something can be done to help others."
Both parents said they hope the hearings before the Military Police Complaints Commission - an independent, civilian-run investigative body - will shed light on the factors that led to Langridge's death.
On March 15, 2008, Langridge was found hanging in his Edmonton barracks. A veteran of tours in Afghanistan and Bosnia, Langridge was diagnosed with depression and posttraumatic stress disorder and previously had attempted to take his own life on six separate occasions.
The family hopes the hearings will determine how their son was able to kill himself when he was under the care of military doctors.
Military police also withheld Langridge's suicide note from his family for almost 15 months.
"We're absolutely delighted that the Military Police Complaints Commission paid heed to us and took us seriously," Shaun Fynes said. "This is very personal to us. We're very serious about it."
"No family should ever go through what we've gone through - to get answers," Sheila Fynes said. "It's been a long four years."
Sheila Fynes said the best outcome from the hearing would be if it prevented another soldier from taking his or her own life.
"I think I speak for all mothers when I do this. I'm hopeful. I'm hopeful there will be lessons learned," she said.
Though the experience has been tough on the family, they have received nothing but support from veterans and veterans groups. Sheila said several veterans were coming to Ottawa to support the family. Her husband added that none of the groups had a political agenda and they were simply showing support for the family of a veteran.
Despite their determination to see the process through, the family came close to being overwhelmed by the hearings when their lawyer had to withdraw his services because they couldn't afford to pay him.
However, Michel Drapeau learned March 16 his legal fees would be covered by the government, four days after he was forced to drop the case because he could no longer continue at the demanding case following months of pro-bono work.
"It was at the 11th hour - we've been waiting since October," Shaun Fynes said. "We don't have the means to get involved in a public-interest hearing for two-and-a-half months with our limited resources. We were going to have to go it alone."
Legal costs could run as high as $200,000 due to the complex nature of the hearing, involving thousands of pages of evidence and testimony.
The hearing is expected to take two and a half months, at the end of which the commission is expected to issue recommendations based on its findings.
We thought you might also be interested in..