Video highlights: Blazers put the heat on Royals
Mar 28 2012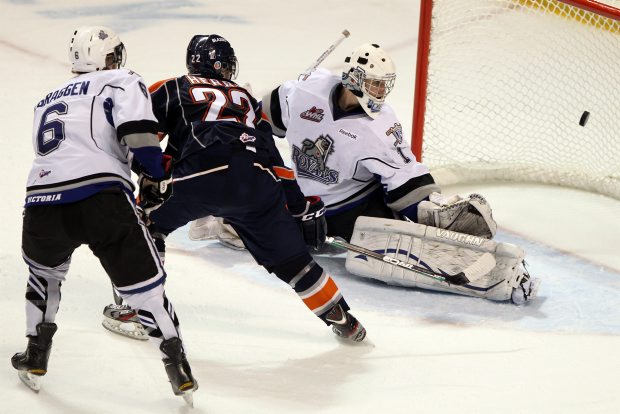 Royals goalie Jared Rathjen watches the puck bounce off the crossbar as teammate Jesse Zgraggen and Blazers forward Brandon Herrod charge the crease during the second period of Game 3 at Save-on-Foods Memorial Centre.
Photograph by:
Bruce Stotesbury , timescolonist.comWHL Kamloops at Victoria (1st Period)
Playoffs - Round 1/Game 3
Video courtesy of SendtoNews/Victoria Royals
Perhaps it is only perversely fitting the Victoria Royals are on the verge of elimination in the Western Hockey League playoffs because of defence, goaltending and special teams — because that is the triple-axle of problems which have bedeviled the club all season.
You only have to look at one statistic to see why the seventh-seed Royals are down 3-0 to the second-seed Kamloops Blazers in their best-of-seven opening-round Western Conference series.
The 18 goals allowed by Victoria in the three games stands out like Mount Baker on a clear day. So do Kamloops' five special-team goals Tuesday night — three on the power play and two short-handed — in the Blazers' 7-5 victory in Game 3 before 5,255 fans at Save-on-Foods Memorial Centre.
The Royals' season hangs in the balance in Game 4 tonight at 7 inside the Memorial Centre.
"It's reality . . . the way it is," said Victoria GM and head coach Marc Habscheid, about the dire situation his club faces.
"To use the old clichés, it's one shift, one game at a time. Our guys never quit. They competed like heck."
Not even Jamie Crooks' hat-trick was enough to save the Royals on this night.
"I would like to get a win more than a hat-trick," said Crooks.
"[Today] is a new day and we have to come back and win. It's not going to be easy. But we're going to try to do it [win the series]. You can't get too high or too low."
Victoria got off to the start it so desperately needed by taking a 2-0 lead on first-period goals by Zane Jones and Crooks.
Kamloops suddenly didn't look as invincible with captain Chase Schaber out with a serious cut incurred early in the first period and best defenceman Austin Madaisky sitting out the first game of a two-game league suspension for a hit on Jones in Game 2.
And the Royals received a gift in the final minute of the first period when an apparent Kamloops goal was waved off because of a questionable goaltender-interference penalty. But the hockey gods have a way of exacting justice — Dylan Willick of Kamloops scored short-handed on the ensuing Victoria power play to make it 2-1 at 54 seconds of the second period.
A stoppable shot by Tim Bozon tied it 2-2 at 2:55 and Landon Cross on the power play gave Kamloops a 3-2 lead as a hush fell over the crowd. But two follow-up tap-ins by Crooks at 5:51 and 8:26 of the second — after respective shots by defencemen Jordan Fransoo and Jesse Zgraggen pinged off posts — put Victoria back into the lead at 4-3.
An inability by Victoria to clear the puck led to Jordan DePape's power-play goal as Kamloops leveled 4-4 at 14:55. Then Matt Needham simply blew past the Victoria defence to give Kamloops the lead with an unassisted shorthanded goal at 17:26.
That was it for Royals crease starter Jared Rathjen, replaced by Keith Hamilton, who was set upon almost immediately by JC Lipon with a power-play goal at 18:48 to make it 6-4.
"It's frustrating to lose three straight. We have lapses that cost us," said Royals captain Hayden Rintoul.
Austin Carroll got Victoria to 6-5 at 1:20 of the third period. But Colin Smith restored Kamloops' two-goal lead at 6:38.
cdheensaw@timescolonist.com
Win tickets
To enter a draw for a pair of tickets to tonight's Royals game, email your name and day phone number to: royals@timescolonist.com and tell us who your favourite Royal is.
DEADLINE for entries is Wednesday at 1 p.m.
Winners will be contacted by phone.
We thought you might also be interested in..