Plea for an old haunt: Let there be more light
Mar 28 2012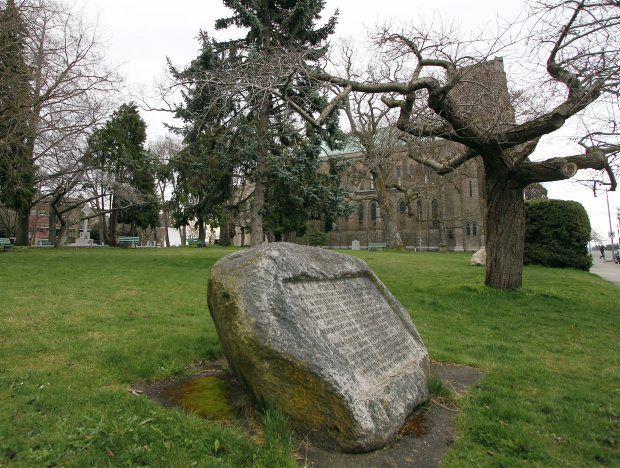 Pioneer Square is a small park bounded by Rockland Avenue and Quadra and Meares streets. It's also one of the city's oldest cemeteries.
Photograph by:
Adrian Lam , timescolonist.com (March 2012)
Preservation of old tombstones, better lighting and path improvements are all included as part of a draft management plan for the cemetery-cum-park known as Pioneer Square.
Doug Demarzo, manager of parks planning and design, concedes there's nothing too radical in the draft plan for the park.
"We're looking at highlighting the need for the preservation of the historic markers and a few little interpretive ideas," Demarzo said.
Pioneer Square is a small park just north of Christ Church Cathedral and bounded by Rockland Avenue and Quadra and Meares streets. It's one of the city's oldest cemeteries and operated as such from 1855 to 1873.
There are about 1,300 people buried there, even though only a few grave markers remain. That's because, more than a century ago, long after the last burial in Pioneer Square, the city moved the headstones to the back wall, leaving the graves in place.
Initial public consultation showed strong support for restoration and preservation of the tombstones and monuments in the square and for the reinstallation of those currently in storage. Also cited as important was greater interpretation of historical elements of the square and improved general maintenance, according to the draft plan.
Of the 330 people who completed surveys, most had no concerns about their safety in the park during daylight hours.
However, 50 per cent felt unsafe at night and commented on the need for measures such as more lighting.
While several people commented on the need for an off-leash area for dogs in the neighbourhood, most didn't feel Pioneer Square would be appropriate, out of respect for those buried there. The draft plan agrees.
The management plan has 16 recommendations, including:
? Preservation of tombstones.
? An interpretive plan, including a memorial feature providing the names of the 1,300 people interred in the cemetery.
? Widen and resurface park trails.
? Upgrade existing lighting and install additional lights.
An open house to review the draft plan is planned for today between 4: 30 p.m. and 7: 30 p.m. at Christ Church Cathedral (930 Burdett Ave.).
bcleverley@timescolonist.com
We thought you might also be interested in..