$125,000 boost for cancer care
Mar 28 2012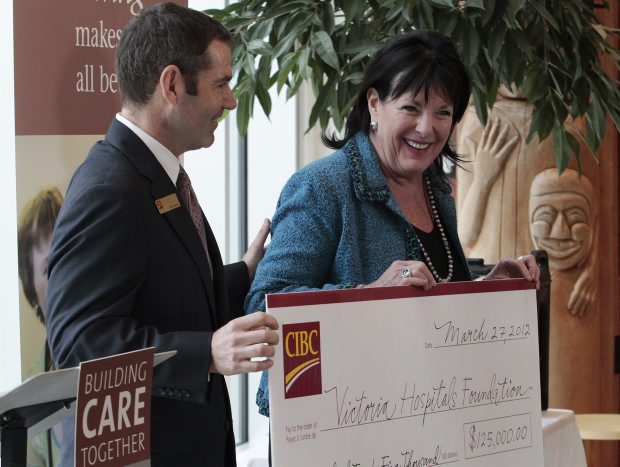 Building Care Together campaign Co-chair, Leslee Farrell and CIBC's John Guthrie during a funding announcement for the oncology ward at Royal Jubilee Hospital.
Photograph by:
Lyle Stafford , timescolonist.com (March 2012)
Cancer care at Royal Jubilee Hospital received a $125,000 boost Tuesday, while the Victoria Hospitals Foundation's ongoing fundraising campaign moved closer to the halfway mark.
The donation to the eighth-floor cancer ward in the Jubilee's new Patient Care Centre was made by CIBC. CIBC's John Guthrie said the gift will come over five years, and is being made through the foundation's $25-million Building Care Together Campaign.
Tuesday's donation brings the campaign total to $11.85 million, with several more funding announcements to be made in the near future.
"This is a remarkable pledge from CIBC," said Leslee Farrell, who is cochairing the campaign with Ted Hughes.
Guthrie, who was joined by a number of colleagues, presented the donation in the atrium of the care centre.
Guthrie said support for the cancer or oncology ward is an extension of CIBC's long-term sponsorship of the Run for the Cure, which supports breast-cancer care and research.
He pointed out that 2,000 to 2,500 cases of various types of cancer are diagnosed each year on Vancouver Island.
"We need to make a difference in the lives of people going through a very difficult time by supporting their care, right here in the Patient Care Centre."
Farrell said the foundation is grateful for the support shown by CIBC and other corporate partners, as well as generous individuals.
She said the Patient Care Centre, opened last March, has been uniformly praised. The cancer ward is no exception, she said.
"The large, bright rooms provide sunlight and sweeping views of the city and the Juan de Fuca Strait. Patients and families benefit from the thoughtful inclusion of spacious visiting areas furnished with sleeper couches, as well as access to sunrooms and beautifully landscaped outdoor gardens."
More than 1,200 patients a year will use the ward, Farrell said.
For more on the campaign, call 250-519-1750 or go to buildingcare.ca.
jwbell@timescolonist.com
We thought you might also be interested in..