Aveos workers press B.C. parties for action
Mar 28 2012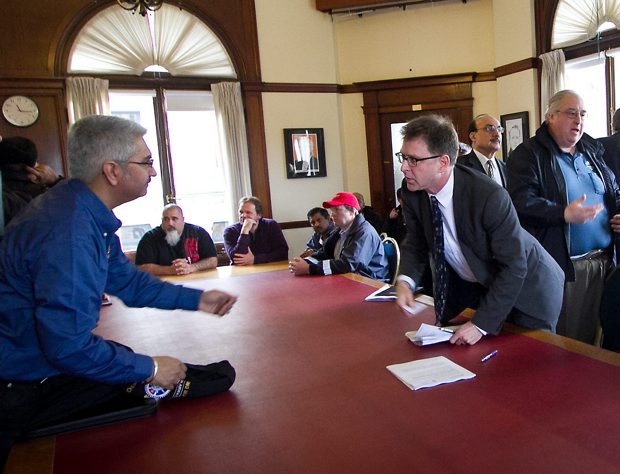 Employees of Aveos, the company that did maintenance for Air Canada, meet with NDP leader Adrian Dix, right, at the B.C. legislature Tuesday. A company shutdown has put 350 workers in Richmond out of jobs.
Photograph by:
Darren Stone , timescolonist.com (March 2012)
B.C.'s Liberals and NDP may join forces to demand Prime Minister Stephen Harper save the jobs of 350 aircraft maintenance workers.
On Tuesday at the legislature, NDP leader Adrian Dix asked Pat Bell, Minister of Jobs, Tourism and Innovation, to support a joint resolution asking for Harper to intervene in the dispute between Air Canada and aircraft-repair firm Aveos Fleet Performance Inc. to protect 350 skilled jobs in Richmond.
Bell replied that he was "interested in pursuing the concept of a resolution," but refused to commit himself to anything until he talked to federal Transport Minister Denis Lebel.
Lebel announced late Monday he was setting up a commission to hear from Air Canada, Aveos, unions and other parties.
More than 2,600 people were thrown out of work after Aveos announced March 20 it was liquidating its Canadian aircraft maintenance business.
The closure may have left Air Canada in violation of the Air Canada Participation Act, which requires the airline to maintain operational and maintenance centres in Montreal, Mississauga and Winnipeg. Since 2004, most of the work in those cities has gone to Aveos, a private company in which Air Canada owns about a 20 per cent share.
Dix suggested the parties could send a joint delegation to Ottawa to make an impact on a debate "that could exclude British Columbia if we don't speak with a powerful voice."
"I don't want to rule out any and all options that are in front of us in terms of going to Ottawa in a joint delegation," Bell replied, later adding: "I do think it is prudent to first speak with Minister Lebel to find out exactly what his intent and plans are. This is a rapidly evolving situation. We're getting updates literally on a minute-by-minute basis at this point."
Dix met with 55 former Aveos employees who lost their jobs when the company filed for bankruptcy protection last week. A smaller group also met with Bell.
Christopher Hiscock, president of the International Association of Machinists and Aerospace Workers Local 764, said the delegation came to Victoria hoping the legislature would pass a bipartisan resolution - similar to a unanimous vote by the Quebec National Assembly last week - calling on the federal government to uphold the Air Canada Participation Act and keep aircraft maintenance business in Canada.
"The meeting went very well," Hiscock said. "We did get a commitment from the minister that he would work with us and that he and the NDP would work together.
"We made it clear this is above partisan politics. This is too important to play politics," Hiscock said. "These are 350 skilled jobs and time is of the essence here."
The mayors of Montreal, Winnipeg and Mississauga have also written to Harper asking him to intervene.
ldickson@timescolonist.com
We thought you might also be interested in..