After 23 years, WHL playoffs return
Mar 28 2012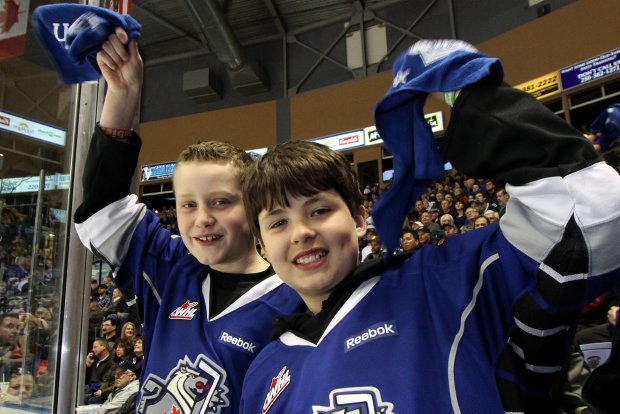 Eleven-year-olds Josh Gitzel, left, and Matthew Perry both 11 cheers on the Victoria Royals in their first playoff home game against the Kamloops Blazers at Save-on-Foods Memorial Centre on Tuesday night.
Photograph by:
Bruce Stotesbury , timescolonist.com
After a 23-year hiatus, Victoria-area Western Hockey League fans welcomed back the playoffs Tuesday night at Save-on-Foods Memorial Centre.
More than 5,000 spectators were in their seats to support the Victoria Royals in Game 3 of their Western Conference quarter-final. The Royals played the first two games of the best-of-seven series on the road, and lost both to the Kamloops Blazers.
Coincidentally, it was the same opponent — the Blazers — who the local WHLers played way back in the 1988-89 post-season. The Victoria Cougars lost that series 5-3 when the West Division played a best-of-nine series, with just four of six teams qualifying in the division. The Cougars moved to Prince George in 1994, after five lean years without post-season play.
"I was here for that last series," said local superfan Jody Rice. "The Cougars were up 3-2 and they lost the last three games to the Blazers. That was in the old Memorial Arena. It was a best-of-nine and they blew it.
"It was a horrible finish — horrible. But it's very exciting to have it back. I've supported everything in town from the BCHL to the ECHL, but the WHL is my favourite league. It's a lot of fun having the WHL playoffs back."
The Royals were welcomed with a Sea of Blue as fans waved some of the 4,000 towels that read "We are Royal blue, are you?" which were handed out.
Kamloops won 7-5. The series now stands 3-0 for the Blazers with Game 4 tonight at 7 at Memorial Centre.
mannicchiarico@timescolonist.com
We thought you might also be interested in..