Dead pigs in a sea of science
Mar 29 2012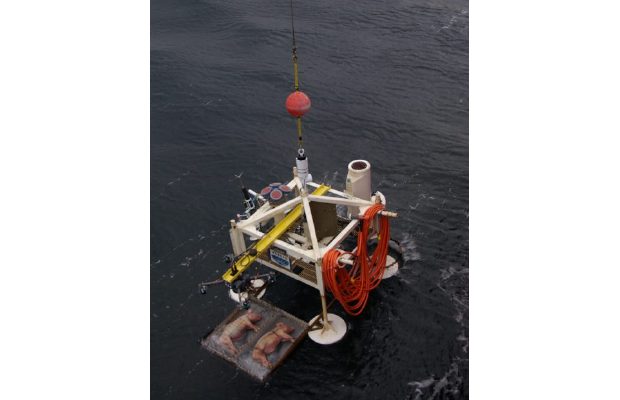 Univerisity of Victoria researchers prepare to lower two pig carcasses inot the ocean off Victoria.
Photograph by:
Supplied photo, University of Victoria , timescolonist.com (March 2012)
Before the bodies were lowered into 300 metres of water in the Strait of Georgia, their feet were strapped to a tray so sharks could not drag them away for an underwater picnic.
"There go our pigs," said Verena Tunnicliffe, Victoria Experimental Network Under The Sea (VENUS) director, watching recorded video of a platform submerging the bodies of two young pigs.
The pig carcasses, which are similar to human bodies, are part of an experiment, using cameras in an underwater observatory, looking at the speed at which ocean animals reduce the bodies to picked-clean bones.
Tunnicliffe, Canada research chairwoman in deep-ocean research at the University of Victoria, is looking at differences between pig carcasses dropped in Saanich Inlet's lowoxygen water and the higher oxygen water of the Strait of Georgia - vital research at a time when ocean oxygen levels are dropping.
The attraction of instant food brings crabs, spot prawns and other animals to the area, even when oxygen is low, but, as levels drop, only squat lobsters can cope, Tunnicliffe said.
The cameras also revealed the presence of at least three sixgill sharks - listed as a special concern under the Species at Risk Act - feasting on Strait of Georgia pigs.
"Look at that young shark. He's like a vertical corkscrew. He's got the pig by the throat and he's just working away to get his bit," Tunnicliffe said.
At Simon Fraser University, forensic entomologist Gail Anderson and forensic anthropologist Lynne Bell are watching the process to help investigations when human victims are found in the ocean.
Bite marks from animals such as crayfish or sharks can sometimes be mistaken for human bites, which can change the outcome of a court case, Anderson said.
To watch sixgill sharks go to http://www.youtube.com/watch?feature=player_detailpage&v=1qkLE-F02k0
To watch a Giant Pacific Octopus at the research site go to http://www.youtube.com/watch?feature=player_detailpage&v=JAQzfSVXjGw
jlavoie@timescolonist.com
We thought you might also be interested in..