Health authorities move to block anesthesiologists' job action
Mar 30 2012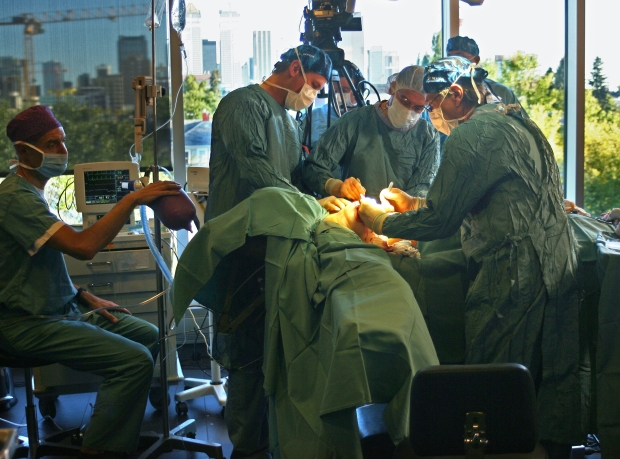 About half of B.C.'s anesthesiologists will withdraw their services from elective surgeries for the week of April 2
Photograph by:
Staff , Postmedia News
B.C.'s health authorities have filed notice of a civil claim and application for an interim injunction to stop the province's anesthesiologists from a planned withdrawal of services to start Monday.
Lawyers filed notice of civil claim and affidavits Thursday in Vancouver, including an application for an interim injunction, which will be heard today, according to Lannea Parfit, spokeswoman for Interior Health.
The B.C. Anesthesiologists' Society has said it will invoke a slowdown in providing service for elective surgeries throughout the province the week of April 2, and at Royal Jubilee and Victoria General hospitals starting April 9.
The intention to go ahead with the job action next week has not changed; however, the specialists' society respect the courts and the College of Physicians and Surgeons, said Dr. Jeff Rains, president of the B.C. Anesthesiologists' Society.
Because health authorities scheduled elective surgeries throughout the withdrawal period, specialists scheduled to cover urgent surgeries announced Wednesday they will work into the night to cover the elective surgeries already booked, Rains said.
"The anesthesiologists have created maximum confusion for patients, our surgeons and other frontline staff around whether or not they will fulfil their ethical and legal obligations to provide patient care as we would expect them to do next week," said Dr. Robert Halpenny in a statement. The CEO and president of Interior Health was speaking on behalf of all health authorities.
"We continue to hope the B.C. Anesthesiologists' Society will do the right thing and not withdraw service."
It's a line of attack that will only worsen the relationship between the anesthesiologists and the health authorities, Rains said. All the specialists want is have a neutral arbitrator sit down with the anesthesiologists and the government to come to a binding agreement, he added.
Halpenny said anesthesiologists have made conflicting and confusing statements about whether they will be available next week. Doing procedures after hours would undermine the health care system's ability to provide safe, quality care, he said.
But the anesthesiologists say they made concessions to accommodate patients only after the health authorities put patients in the middle of the labour dispute. They say that was done by booking patients for elective surgeries that the BCAS had informed government wouldn't happen three months ago.
The withdrawal of service was scheduled to start April 9 at Royal Jubilee and Victoria General hospitals to ensure the Vancouver Island Health Authority had a full eight weeks' official notice of the work slowdown, said Ian Courtice, an executive member of the Association of Victoria Anesthesiologists.
In a letter from health authority lawyers sent on Monday, the anesthesiologists were advised that they have entered into binding contracts that require anesthesiologists to provide patient care, according to Interior Health.
"If any anesthesiologist participates in job action, health authorities have no option but to pursue every means possible to maintain services for patients," Halpenny wrote.
"The health authorities' position continues to be that any anesthesiologist who participates in service withdrawal or job action will be in breach of their contract."
ceharnett@timescolonist.com
We thought you might also be interested in..