Province pledges $8 million for concrete medians, upgrades on Malahat highway
Mar 30 2012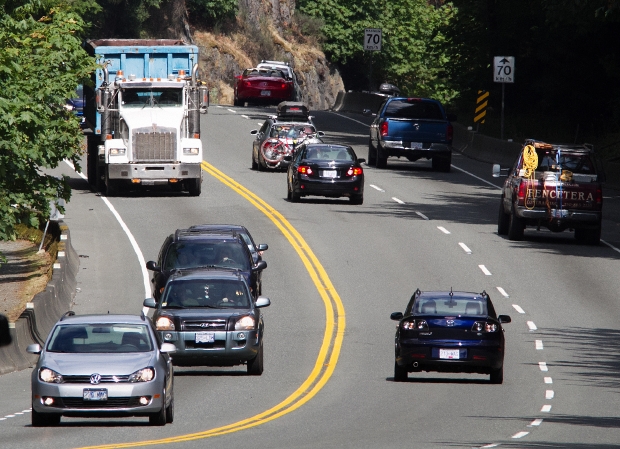 There have been calls for years to install concrete barriers on the Malahat to separate traffic travelling in opposite directions.
Photograph by:
File photo , timescolonist.com
New concrete barriers will be installed on the Malahat highway as soon as this summer, dramatically reducing the risk of head-on crashes in some of the most dangerous stretches of the controversial road, the government has announced.
Transportation Minister Blair Lekstrom pledged $8 million for centre-line concrete dividers in five high-risk locations Thursday, along with upgrades and extra merge lanes at several intersections.
Construction will start this summer, said Lekstrom. When complete, 40 per cent of the Malahat will have concrete medians to protect against head-on collissions, he said.
"This will be, I think, recognized as an incredible move forward in the safety enhancements along this corridor," Lekstrom said.
"It is a great investment to improve the safety for the travelling public on a corridor that needed this a great deal."
Police officers, firefighters and the families of crash victims immediately hailed the upgrades as positive steps that could save lives.
Gizelle Grant, whose father Colin was killed on his motorcycle in November when a car crossed the centre line near the Shawnigan Lake turnoff, called the upgrades bittersweet.
"It just goes to show my dad's death was preventable," she said. "It's nice to see people take accountability for it now.
"My dad's gone, but hopefully it can save somebody else from going through what I did."
The new barriers and intersection improvments are "very positive steps" that, based on statistics, target the worst spots on the Malahat for severe crashes, said RCMP Insp. Ray Fast, in charge of Island district traffic services.
The Malahat fire department, whose volunteer members see the violence of the high-speed head-on crashes first-hand, praised the upgrades.
"It's going to improve safety for each and every one of us," said Fire Chief Rob Patterson. "You don't have to worry about cars crossing as often as they have in the past, in the areas where we have had these time and time again."
We thought you might also be interested in..