Victoria's tax increase shrinks, thanks to council cuts
Mar 30 2012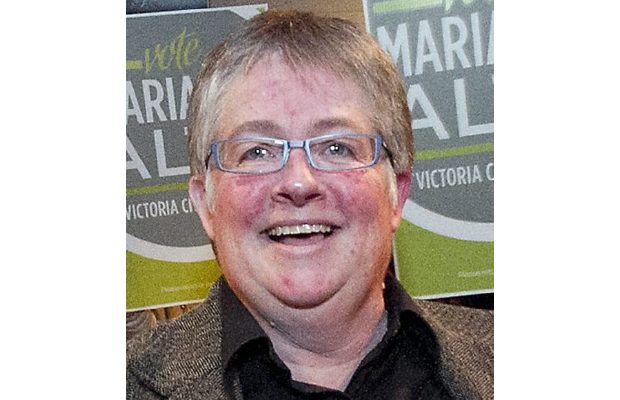 Coun. Marianne Alto: $260,000 in budget cuts a "huge deal."
Photograph by:
Adrian Lam, timescolonist.com
With Coun. Marianne Alto leading the charge, Victoria councillors shaved another $260,000 from this year's budget, reducing the property tax increase to 3.25 per cent from an anticipated 3.5 per cent.
Alto, who failed last week to convince her colleagues the tax increase could be limited to 3.0 per cent, was back with a compromise.
Alto's suggestions included reducing the police budget by $150,000 and the city's contracted services budget by $30,000. Councillors already had agreed to Alto's suggestion to eliminate catering services for council and standing committee meetings, saving $12,000. Another $68,000 came as the city's share of the Greater Victoria Public Library budget was less than anticipated.
Councillors also signalled that 3.25 per cent is the maximum property tax increase they are prepared to accept in each of the next three years.
Alto called the savings significant, especially given that city staff had presented what they considered a status quo budget that called for a tax increase of 4.7 per cent.
"I don't think it is a huge deal in the sense of volume, but I do think it's a huge deal in the sense of making sure that taxes go up as little as humanly possible," Alto said.
Coun. Ben Isitt said it was with great reservations he would support the budget. He thought there could be more cuts to the police budget, "which over time, I think, needs to take the form of cuts to [full-time-equivalent positions] through attrition as crime rates continue to fall."
Isitt also fired back at the Greater Victoria Chamber of Commerce, whose CEO, Bruce Carter, was quoted Thursday saying the city has "a spending problem" that is outpacing the growth of the economy.
"Recognizing the chamber's request for 'more moderate tax increases' and potential savings to businesses and residential taxpayers," Isitt suggested the city eliminate the $50,000 grant it gives the chamber.
But the move got no support. Both Mayor Dean Fortin and Coun. Chris Coleman said the grant supports economic development through the chamber's development agency, which is also funded by Saanich and the chamber itself.
Isitt also failed to get support for reducing the city's $80,000 Christmas lighting budget to $20,000. He said that as a nonChristian, he was offended by one group getting that much.
City director of engineering Dwayne Kalynchuk said the money also funds banners, lights in the Centennial Square fountain and lanterns in Chinatown.
bcleverley@timescolonist.com
We thought you might also be interested in..
Notice
: Undefined index: event in
/home/viccity/public_html/v2/content.php
on line
67