Nanaimo mother Clare Bekkers found not guilty in crash that killed her 2 sons
Mar 31 2012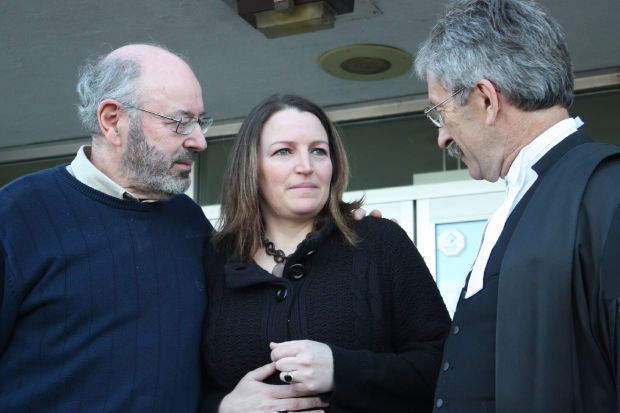 Clare Suzanne Bekkers, with her father John Harrison, left, and lawyer Bert King, leaves the Nanaimo courthouse on Friday morning after a B.C. Supreme Court justice found Bekkers not guilty of impaired and dangerous driving charges she faced after a highway crash killed her two boys near Cassidy on Dec. 22, 2008.
Photograph by:
Matthew Gauk , Nanaimo Daily News, March 30, 2012
NANAIMO — Clare Suzanne Bekkers did nothing criminal when she lost control of her SUV on an icy highway and crashed into oncoming traffic, killing sons Lukas, 9, and Cooper, 2, B.C. Supreme Court Justice Doug Halfyard ruled Friday.
He found the Nanaimo mother not guilty of impaired driving and dangerous driving causing death.
Five people were in the vehicle when it crashed on Highway 1 on Dec. 22, 2008, near the Cassidy Inn south of Nanaimo. Bekkers, 39, and her two young daughters Lunden, 7, and Pyper, 4, survived.
"I'd like to just go home. I just want to go home," Bekkers said in response to reporters' questions as she left the courthouse in tears Friday, ushered away by her father John Harrison.
Halfyard found that while Bekkers was driving in a dangerous manner at an excessive speed of 100 km/h on an icy highway, she did nothing criminal when she lost control of her SUV while changing lanes to pass other cars.
There was no evidence that she knew the highway was covered in black ice, and other drivers were also ignorant of the risk, the judge said. "Ms. Bekkers' act of changing lanes was a lawful and ordinary act of driving," Halfyard wrote in his decision. "Her failure to signal the lane change was a traffic rule violation, but it had nothing to do with the accident."
The trial was told that Bekkers had been drinking and took cocaine before the crash. Halfyard said he was not convinced that Bekkers was drunk leading up to crash or that the presence of drugs in her system impaired her ability to drive. "There was no appreciable drinking for more than 12 hours before the accident occurred," Halfyard wrote. "In my judgment, she has not committed a crime."
Defence lawyer Bert King said Bekkers' daughters have recovered from their injuries and are living with their mother. "She'll be grieving for the rest of her life," he said of Bekkers. "Whether the court finds her responsible or not, she's got her own views in her heart, I suppose."
King said a road maintenance supervisor's statement that he drove the road earlier and thought it was clear and safe was a crucial point. "So many people were going about 100 to 110 kilometres an hour. ... She just had the misfortune of hitting the black ice right at the wrong moment."
Crown prosecutor Frank Dubenksi would not say whether the government would seek an appeal.
"My feelings are pretty much the same as when I started this case," Dubenski said. "I've felt a profound sense of sadness in the fact that two beautiful young children's lives were lost." ั
We thought you might also be interested in..