Judge approves injunction to stop anesthesiologists' withdrawal of services
Mar 31 2012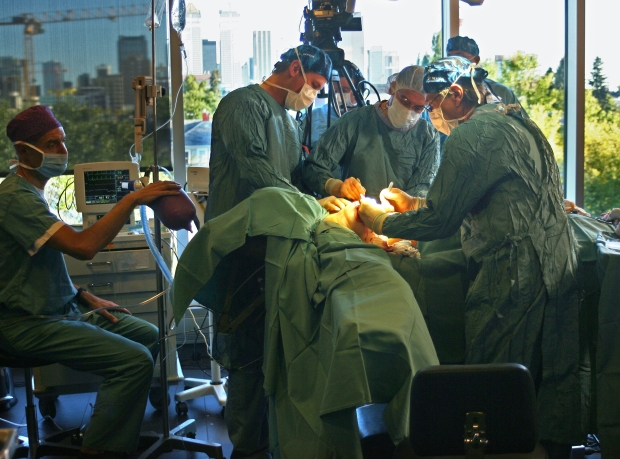 About half of B.C.'s anesthesiologists will withdraw their services from elective surgeries for the week of April 2
Photograph by:
Staff , Postmedia News
The B.C. Supreme Court has granted an interim injunction to stop the province's anesthesiologists from withdrawing services for elective surgeries next week.
That development comes as the B.C. government prepares legislative changes to certify nurse anesthetists. Fed up with a more than decade-long labour dispute that has the court deciding on the legality of proposed job action by approximately 270 of B.C.'s 472 anesthesiologists, Health Minister Mike de Jong says a long-term solution is needed.
The government's legislative changes would allow B.C.'s nurse practitioners, for example, to train to take on a large chunk of anesthesia services from a group of professionals de Jong noted "earn upward of, on average, $340,000" and have acted unprofessionally, creating uncertainty through this latest threatened job action.
"We are prepared and are preparing to make those legislative changes so that we'd have a larger body of professionals capable of providing this service on a reliable basis," de Jong told reporters.
B.C. Supreme Court Justice John Savage approved an interim injunction Friday to stop the province's anesthesiologists from proceeding with a partial withdrawal of services for elective surgeries scheduled to start next week in most parts of the province and April 9 at Victoria General and Royal Jubilee hospitals.
According to B.C. health authorities, the decision means no elective procedures or surgeries will be postponed as previously expected.
Patients with scheduled procedures are advised to proceed as planned. A total of 650 letters advising of possible delays in elective surgeries were sent to patients across the Vancouver Island Health Authority, including 282 relating to procedures at Royal Jubilee and Victoria General hospitals; 106 for Cowichan District Hospital; 226 for Nanaimo Regional General Hospital; and 36 for West Coast General.
"We're pleased with the court's decision not to allow anesthesiologists to withdraw their services starting next week," said Dr. Robert Halpenny, president of Interior Health, in a statement. "As we go forward, our top priority will be to protect patient safety, with the goal of ensuring no elective surgeries are postponed."
Lawyer Murray Tevlin, representing the B.C. Anesthesiologists' Society, pointed out that anesthesiologists gave notice last November of the service withdrawal. Health authorities have taken the position that any withdrawal of services is an illegal breach of the contract.
The anesthesiologists have been involved in a long-simmering dispute since 2002 over a shortage of doctors who do anesthesiology. They say that has caused them to be overworked while affecting patient safety and wait lists for surgery.
For more than a decade, anesthesiologists have been trying to negotiate a higher fee rate and higher staffing levels through the B.C. Medical Association. The specialists are frustrated they don't have a seat at the negotiating table.
"All we're asking is for someone to sit down and talk with us," said Dr. Jeff Rains, president of the B.C. Anesthesiologists' Society.
"Our object throughout has not been a withdrawal of services. Rather, it was establishing an effective process through which we could improve patient care and reduce waiting lists in B.C."
Victoria's Dr. Ian Courtice, a former BCAS and BCMA president, said the health minister's "degree of ignorance" displayed in statements around his proposal to train nurse anesthetists is "appalling."
There would likely be few anesthesiologists willing to co-operate in training nurses for such positions, Courtice said.
"It would take tens of millions of dollars to set up an education program for [nurse anesthetists] and they would need to work under an anesthesiologist, so that does not solve the shortage problem unless you allow multiple [nurse anesthetists] to work under one anesthesiologist — which, if excessive, is unsafe," Courtice said in an e-mail.
It would cost the government about $100 million to train and pay nurse anesthetists and it would take at least three or four years to produce them, Courtice said.
Rita Schreiber, a registered nurse and professor at the University of Victoria's School of Nursing, says nurse anesthetists are in the United States and 140 countries around the world.
She believes it would take approximately seven years to train a nurse anesthetist — compared to about 14 years to train an anesthesiologist — costing the government less in training. She estimates the pay range for a full-time, fully trained nurse anesthetist be about $150,000 - $170,000.
"Absolutely, there is the appetite for this training," Schreiber said. She said she is approached by students and grads who want to become nurse anesthetists. There are also nurse anesthetists in the United States who would like to return to B.C. to work, she said.
B.C. Nurses' Union president Debra McPherson says registered nurses would be interested in such training. She said nurse anesthetists would be more cost effective; draw a salary instead of fees for service; work as employees of the health authorities rather than as independent contractors; and have a wide range of knowledge and skills to bring to the job.
ceharnett@timescolonist.com
We thought you might also be interested in..
Notice
: Undefined index: event in
/home/viccity/public_html/v2/content.php
on line
67