Saanich police maintain course with plan
Mar 31 2012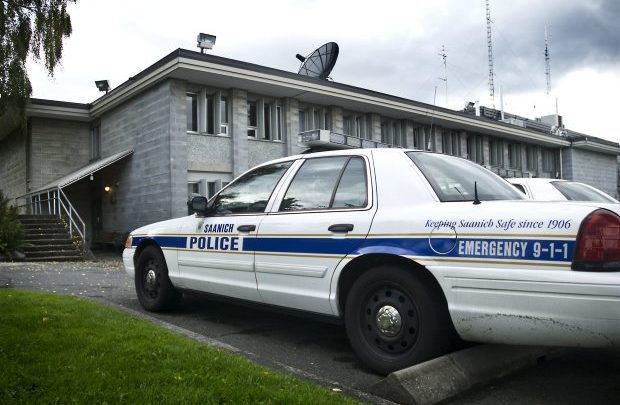 Saanich police's strategic plan raises concerns about the force's 52-year-old headquarters, which it says would not withstand a major earthquake and offers no room for the department to expand.
Photograph by:
File photo , timescolonist.com
The Saanich police strategic plan for the next four years sticks with a slow-and-steady-wins-the-race philosophy and banks on the community wanting more of the same instead of any major changes.
It's a contrast with Victoria police strategic plan released in November, which made no apologies in pushing for a regional police force for Greater Victoria by 2020.
"As I recall, that goal was actually to have the safest region by 2020, and we certainly agree that safety for our communities is an important theme," said Saanich Police Chief Mike Chadwick. As for regionalization, he said, Victoria might be pursuing it, "but it's not necessarily something that we are."
Chadwick said the strategic plan reflects Saanich residents' overall satisfaction with the police force and its direction.
Although amalgamation and police regionalization has been a hot topic, Chadwick said Saanich residents did not bring it up as something they're interested in.
The 28-page document was drafted after meeting with 51 community groups and hundreds of Saanich residents and reviewing more than 1,000 surveys.
Chadwick said the force is involved in 15 integrated units and plans to join the Island homicide team in the next few months and the Vancouver Island Integrated Major Crime Unit some time this year.
The department wants to beef up its investigative and drug sections, but Chadwick did not say whether that would be done with new hires or by moving officers from other sections.
The report also raised concerns about the aging police headquarters on Vernon Avenue, saying the 52-year-old building would not withstand a major earthquake and offers no room for the department to expand. Chadwick said it's up to Saanich council to dedicate money to remediate the building.
While the strategic plan is short on specifics or measurable goals for the department, Chadwick said the department has identified 106 initiatives to move on by 2016, including:
? Invest in technology that will allow experts to monitor investigative interviews, such as interrogations, from remote locations to provide advice.
? Consolidate all old files into the province-wide Police Records Information Management Environment.
? Develop an education program aimed at seniors to prevent elder abuse.
? Improve proactive policing by deploying the bike squad based on crime trends.
A quarterly report card on the department's website will update the public on the progress of those initiatives. The strategic plan can be read at www.saanichpolice.ca. kderosa@timescolonist.com
We thought you might also be interested in..