Are street people treated unfairly? Businessman, politician differ
Apr 01 2012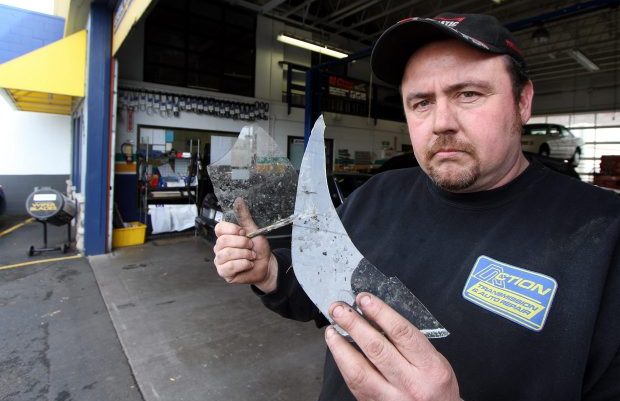 Scott Harrison holds shards of glass from a broken window at his shop on Douglas Street. Harrison wants police to respond to problems of people abandoning shopping carts and vandalizing and fouling his property.
Photograph by:
Bruce Stotesbury , timescolonist.com (March 2012)
It could be a tale of two cities.
Victoria Coun. Ben Isitt is calling for the possible repeal of the city's chattels bylaw in the wake of a report that says street people are often unfairly targeted by police.
Douglas Street businessman Scott Harrison, on the other hand, says he has difficulty getting police to respond when he calls about people abandoning shopping carts, vandalizing, urinating and defecating on his property.
"I've had three windows kicked out this week alone," he said Friday. "They're leaving shopping carts full of clothing and that sort of thing."
Harrison, who owns Action Transmission at Douglas and Bay streets, said he calls for help, "but they're not here by the time [the police] get here."
The problems of local businesses have been exacerbated by the opening of the city's Queens Manor transitional housing project just down the road at Douglas Street and Queens Avenue, Harrison said.
"I had a knife fight out in front of my shop and there is something that drastic every month, at least once a month," he said.
Harrison said he has written to both the city and to provincial Minister of Health Mike de Jong to complain.
"It's a definitely a mental-health issue. We're trying to put a Band-Aid on an artery wound here," he said. "Currently, [Mayor Dean] Fortin and his little 'let's end homelessness' experiment is failing because all we're doing is moving them from one area of the city to the next and now we're on the main drag."
Isitt, meanwhile, has given notice he wants councillors to debate options for the repeal and amendment of the Streets and Traffic (Chattels) Bylaw, which allows police and bylaw enforcement officers to seize belongings or levy fines against people for having their belongings on the street.
"It just seems like [the bylaw] targets members of the street community who have substantial belongings," Isitt said.
"I certainly think, in the long run, we want to provide homes for people so they don't have to lug their belongings around, but it just seems like an unfair bylaw given the economic situation these people have."
The resolution comes in the wake of a recent study that found there's a perception that people living on or near the street are targeted by police based on their appearance. Interviews of 100 street-involved people conducted by the Vancouver Island Public Interest Research Group found that one of the biggest issues is police confiscating private belongings - a charge flatly denied by the police.
Isitt also wants to explore the possibility of establishing a temporary designated tenting area for people living rough and is proposing a workshop with police, bylaw enforcement officers and representatives of the street community be scheduled to discuss the possibility of establishing a temporary, regulated tenting area.
"Right now, we have dozens of unregulated tenting sites - they're in all of our neighbourhood parks. I don't think this is an acceptable solution," Isitt said.
A single temporary site would allow the city to provide portable toilets, and "service providers and police would know that would be part of their patrols and their workload," Isitt said.
Fortin said that rather than "managing" homelessness through designated tenting areas, he would prefer to focus on ending it by finding people homes.
Isitt's motions are scheduled to be discussed April 19.
bcleverley@timescolonist.com
We thought you might also be interested in..