Garden drone targets intruders
Apr 01 2012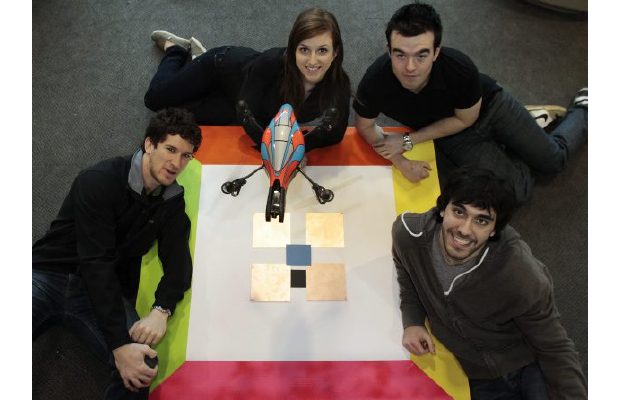 Univeristy of Victoria engineering students -- from left, Douglas de la Mare, chandra Beaveridge, Mark Schurer and Alex Greig -- display their gnome drone Saturday.
Photograph by:
Lyle Stafford , timescolonist.com
Five University of Victoria engineering students believe they might have just the thing to deal with nibbling deer and intruders in local gardens: the garden gnome drone.
The idea for the creation, one of a dozen projects built by graduating engineering students, came from the growing frustration they saw people having with the proliferation of deer.
The prototype features two or more sensors placed on fences or objects to detect movement.
When the sensors detect an intrusion - such as a deer hopping a fence - the gnome drone takes off from its charging station, does a preplanned flight path in the garden and then goes back to its charging station.
What if the small helicopter-like object hits the deer or intruder?
"We're just assuming the deer will be out of there in no time," said Douglas de la Mare.
The students are hoping other students will pick up the project next year and continue working on it. As it is now, it would be best for small to medium gardens, and only in limited weather conditions, de la Mare said.
> For more information, see gardengnomedrone.com
We thought you might also be interested in..