Hepatitis A alert at Quadra Village grocery store
Apr 02 2012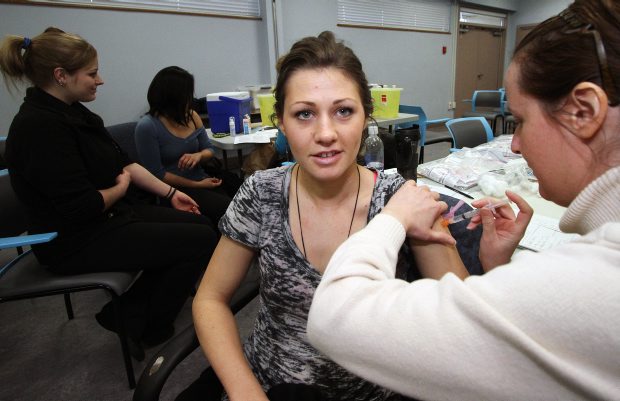 Kelly Drabit, right, gives Fairway Market employee Stephanie Dion a hepatitis A shot at the Vancouver Island Health Authority office on Cook Street.
Photograph by:
ADRIAN LAM, timescolonist.com , March 31, 2012
Customers and employees of the Fairway Market deli on Quadra Street received vaccinations for hepatitis A Sunday and Saturday, after a worker at the store tested positive for the virus last week.
Between 70 and 80 customers and employees received vaccinations Saturday. There was a block-long lineup Sunday afternoon as people waited in line for their shots.
The Vancouver Island Health Authority is urging anyone who ate food prepared in-store on March 18, 19, 20, 22, 25 or 26 to receive a hepatitis A vaccine as a precaution. Food purchased from the deli during this time should be thrown out.
The alert does not apply to sushi, produce or foods purchased from other areas of the grocery store — Fairway Market store No. 11, located at 2635 Quadra St. — nor does it apply to the other nine Fairway Market stores in Victoria and on Vancouver Island.
Health officials are offering immunizations to employees and customers to help prevent the spread of infection. The drop-in clinic is to continue Sunday at the Victoria Health Unit at 1947 Cook St. until 5 p.m.
"It becomes of interest to the public and to us when that [infected] person is a food handler, because then it's not just that person's circle of close contacts who is at risk, it's the general public now at risk," said Charmaine Enns, a VIHA medical health officer.
Chris Hernandez and Justine Sawyer got a vaccine late Saturday afternoon. The two shop regularly at the Quadra Village market and wanted to make sure they didn't get sick.
"We go there all the time, so we just figured that we must have, at one point during that time, got something [from the deli]," Hernandez said after his immunization. "We just thought: Better be safe than sorry."
Customers at the deli between March 7 and 15 also may have been exposed to the virus, which infects the liver, but the vaccine will no longer be effective for those people because too much time has passed, said Enns.
"Right now, we have a single case. Hopefully, it will just stay at a single case," she said. "In this situation, I feel quite confident the risk is small."
Fairway Market found out about the employee's condition late Friday, two days after the store passed a health inspection, said store spokesman Robert Jay.
VIHA officials praised Fairway Market for its food safety practices, a statement echoed by deli employee Rachel Murphy. "We wear so many gloves our hands get extremely dry," she said after getting immunized.
Enns said the incident is likely not related to an Island outbreak. The health authority has recorded about 90 cases of hepatitis A in the past 17 months, mostly in the Cowichan and Alberni valleys.
There is no treatment for hepatitis A, and the majority of people recover in about a month. The virus is found mostly in the stool of the infected person and is most often spread through direct contact or indirectly through contaminated food or water.
Symptoms include fever, tiredness, loss of appetite, nausea, vomiting and abdominal pain. This is followed by dark-coloured urine, light-coloured stools and jaundice (yellowing of the skin and eyes).
The health authority cautions people who develop any of these symptoms to stay home from work or school. There is a two-week period in which a person can carry the virus without symptoms, which allows it to spread undetected. Once a person has had jaundice for two weeks, they are no longer considered infectious.
VIHA has not been able to identify the source of this exposure because the Fairway Market employee has not been out of the country — infection while travelling is common — and is known to follow food safety guidelines at work.
"Really," said Enns, "this represents the reality of hepatitis A: It happens."
dspalding@timescolonist.com
We thought you might also be interested in..