Lineups continue for hep A shots in wake of scare at grocer's deli
Apr 03 2012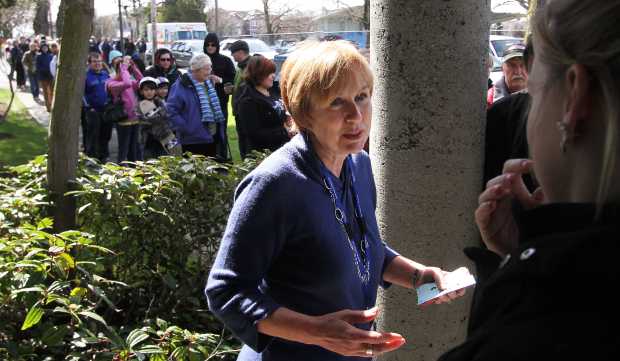 VIHA's Sandra Herbison hands out numbered tickets Monday outside the Cook Street health clinic as people line up for a hep A vaccinations.
Photograph by:
Adrian Lam , timescolonist.com (April 2012)
People lined up outside the Victoria Health Unit mid-afternoon Monday, waiting for free vaccinations to protect them against contracting hepatitis A from the deli department of a Victoria grocery store.
Immunizations will continue until Thursday for employees and customers who consumed non-prepackaged deli items from March 19-26 from Fairway Market store No. 11 at 2635 Quadra St.
The Vancouver Island Health Authority issued a public alert on Saturday, after an employee of the deli fell ill and was diagnosed with hepatitis A.
The virus that causes the disease is found in the bowel movements of infected people and can be spread through personal contact or contaminated food handled by an infected person.
On Sunday, about 200 eople were turned away rom the clinic at 1947 Cook t. when staff ran out of the accine.
About 110 doses were given out Saturday, the first day of the free vaccinations. By late Sunday afternoon, the remainder of the available 640 doses had been used, leaving many who had waited in line dissatisfied.
That shortage had been rectified by Monday afternoon when close to 500 doses were handed out.
Elaine Dunn said she felt grateful to receive the vaccine: "I've been to places where they've known they have a contaminated person working and they've done nothing about it."
Greg Russell shrugged off the inconvenience of having to line up for the shot. And he will continue to visit the Fairway, calling it "a great store."
A total of 125 doses of vaccine were given out in the first hour of the fourhour clinic Monday. Tickets were distributed to those in line, ensuring those who got there early would get vaccinated.
The process of getting vaccinations to Fairway consumers is getting complicated by holidayers taking advantage of a free vaccine, said VIHA spokeswoman Shannon Marshall.
"We're trusting people to do the right thing," she said.
The vaccine is effective when given within 14 days of exposure, said Dr. Charmaine Enns, a VIHA medical health officer.
Anyone who ate food from the deli, including salad, on March 19, 20, 22, 25 or 26 should be vaccinated as a precaution.
"There is a potential risk, even though it's very low, and we have a vaccine that prevents it," said Enns.
There are no reports yet of anyone else getting sick.
The vaccine works after a person is exposed to hepatitis A because the disease has a fairly long incubation period from the time of exposure to when symptoms first appear.
The vaccine can prevent the symptoms from appearing or, if they do, reduce their severity. The vaccination normally consists of a two-dose series, but having one dose will reduce the likelihood of symptoms by about 93 per cent, Enns said. Those who get a second dose can expect 99 per cent protection against hepatitis A.
"One dose is highly effective, two doses is lifetime protection - but no vaccine is 100 per cent," said Enns.
Children are not routinely vaccinated for hepatitis A, Enns said. About 60 per cent of infected younger children do not show any symptoms.
About 70 per cent of teenagers and adults infected with the virus will have symptoms, Enns said. Those who do can be quite ill with fatigue, poor appetite, nausea and vomiting, abdominal pain, fever and yellowing of the eyes and skin.
The illness often lasts about two weeks, but can persist several months.
People can be infectious for a week or two before symptoms begin.
Anyone with these symptoms should stay home from school or work and avoid preparing food for others, VIHA warns.
Frequent, thorough handwashing with warm water and soap for 20 seconds is key for preventing the spread of hepatitis, a VIHA fact sheet says.
VIHA will investigate how the Fairway employee became infected, but it's likely going to be an impossible mission, Enns said.
"When there's a single, solitary case, many times we can't identify the exposure because of the long incubation period," she said.
smcculloch@timescolonist.com
We thought you might also be interested in..