Travellers taking advantage of hep A clinic, VIHA believes
Apr 04 2012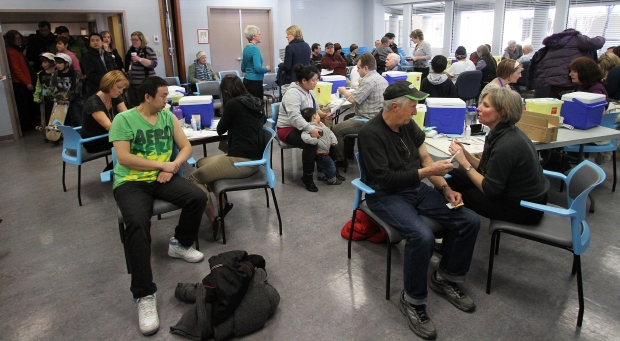 VIHA didn't expect the crowds that have come to its vaccination clinic. On Sunday, 200 people were turned away.
Photograph by:
Adrian Lam , timescolonist.com (April 2, 2012)
The Vancouver Island Health Authority is defending its handling of a public-health scare after 200 people were turned away from a vaccination clinic Sunday.
Free hepatitis A vaccinations were offered to staff and customers of Fairway Market on Quadra Street who consumed non-pre-packaged food at the store's delicatessen on certain days in March, after an employee at the store was diagnosed with the illness.
VIHA was advised of the diagnosis Friday night and issued a public alert on Saturday, arranging a drop-in clinic at the Victoria Health Unit.
On Saturday, 110 people showed up and VIHA brought in more doses from Nanaimo to prepare for greater numbers on Sunday. "While we expected to have more people on Sunday, we didn't expect to have 500 people," said VIHA spokeswoman Shannon Marshall.
By late Sunday afternoon, all the available 640 doses had been used and 200 people were turned away.
On Monday, the supply was replenished and almost 500 doses were administered, while on Tuesday, the numbers had dropped to about 400.
Health-unit staff believe some people in line are prospective travellers taking advantage of free vaccines - normally, each dose costs patients up to $40.
"Here we are acting in good faith and we expect the same from the public," said Marshall. "The people in line on Sunday who were potentially exposed on March 18 were given priority."
The free vaccinations will continue today and Thursday at 1947 Cook St. from 1 p.m. until 4 p.m.
Once the alert has been lifted, VIHA staff will review how well the hepatitis A scare was managed.
"Right now, it's too early to say what any lessons are," Marshall said.
"We have no way of predicting how many people are going to show up at any given time. We mobilized quickly and well."
Hepatitis A can be transmitted by an infected person preparing food with inadequately washed hands. Symptoms of the disease, including fever, nausea, vomiting, abdominal pain and jaundiced skin, usually don't occur until a week or two following exposure.
The alert affects those who consumed non-pre-packaged food at the store's delicatessen on March 19, 20, 22, 25 or 26.
smcculloch@timescolonist.com
We thought you might also be interested in..