Victoria eighth in Canada for 'sugar-daddy' online dating
Apr 04 2012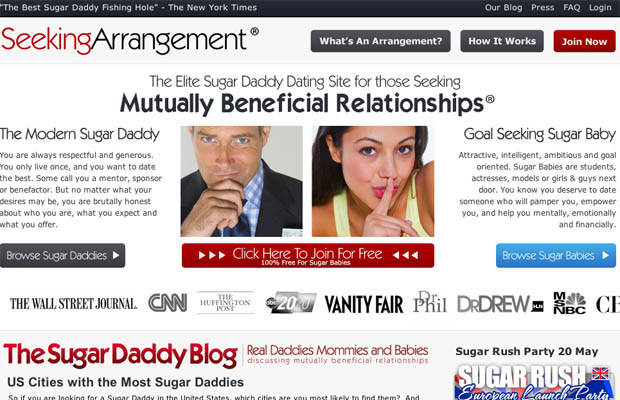 The "Sugar Daddy" dating website SeekingArrangement.com asserts that Vancouver ranked third for the most sugar daddies per capita.
Photograph by:
Screengrab
Vancouver is usually proud to be included on Top 10 lists, but here's one the city may not be so proud of: Vancouver is one of the top cities in Canada for men looking for kept women.
That's the verdict of the "Sugar Daddy" dating website SeekingArrangement.com, which asserts that Vancouver ranked third for the most sugar daddies per capita.
Toronto and Calgary ranked first and second, respectively. Victoria ranked eighth. The statistics were compiled from five years of data from the website.
In Vancouver, the sugar daddies self-reported that they had average incomes of $234,000, gave an average of $4,000 worth of cash and gifts to their "sugar babies" and had a net worth over $5 million. The majority were professionals, executives, entrepreneurs and investors. The average age was 40. Thirty-two per cent reported they were married.
The website states that it is "designed to meet the needs of those seeking mutually rewarding arrangements."
The rationale for the site is made clear. "Let's face it — It's human nature for successful people to want younger and more attractive partners. It's also natural for younger men and women to seek out more experienced, sophisticated, wealthy and generous partners, specifically those who have the means of providing them with comforts and luxuries," the company states.
It defends its service against moral censure by arguing there is historical precedent for such liaisons.
The website goes on to explain that kings, shahs and emperors have had multiple lovers or concubines. In many cultures, liaisons between the wealthy, generous and the beautiful were even considered an art form. The French had courtesans. The Japanese had geishas.
The website was launched in 2005 in the U.S. and purports to be the No. 1 sugar-daddy dating site online. It is helmed by CEO Brandon Wade.
On the site, a so-called college sophomore touted the benefits of having a "sugar daddy" boyfriend.
"Men my age are too immature. My current arrangement is wonderful. Unlike other cash-strapped students, I am pampered with expensive gifts," the testimonial stated. "My sugar daddy is the sweetest man I know. He is my mentor, my benefactor and my lover."
We thought you might also be interested in..