Man arrested after police find knives, pellet gun
Apr 04 2012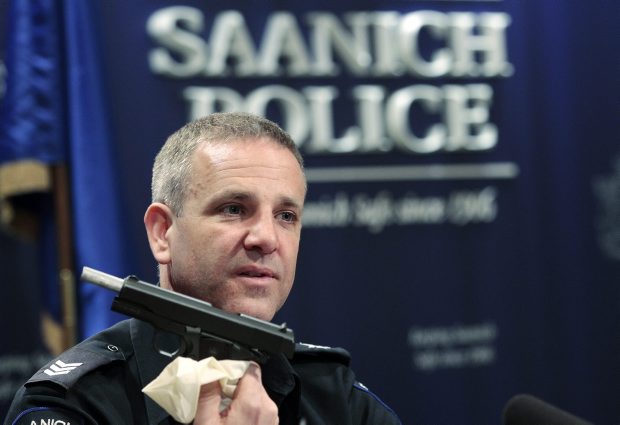 Dean Jantzen, Saanich Police holds a knife taken from a 20-year-old male.
Photograph by:
Lyle Stafford , timescolonist.com (April 2012)
A 20-year-old Vancouver man found with knives, a set of makeshift handcuffs and a replica gun and pellets while drinking on St. Patrick's Elementary School grounds is facing criminal charges.
The man, who used to live in Victoria, was visiting with a former schoolmate when police found them after a complaint from a neighbour.
When Saanich Police searched the Vancouver man, they found a 14-centimetre throwing knife, box-cutting knife, a 32-cm kitchen carving knife and a set of handcuffs fashioned from plastic ties clipped inside his jeans.
When police asked if he had anything else, the man admitted he had a gun "for protection."
Police pulled out a loaded .177 calibre pellet gun from the small of the man's back. He also had a balaclava, pellets for the gun and black leather gloves in his backpack.
The two young men had apparently been catching up about high school.
The Victoria man was "quite shocked" at the findings, Saanich Police Const. Dean Jantzen said. That man was released, but his Vancouver friend faces charges of carrying a concealed weapon and possession of a weapon for a dangerous purpose.
We thought you might also be interested in..