Runners take on wheeled challenge for coach
Apr 04 2012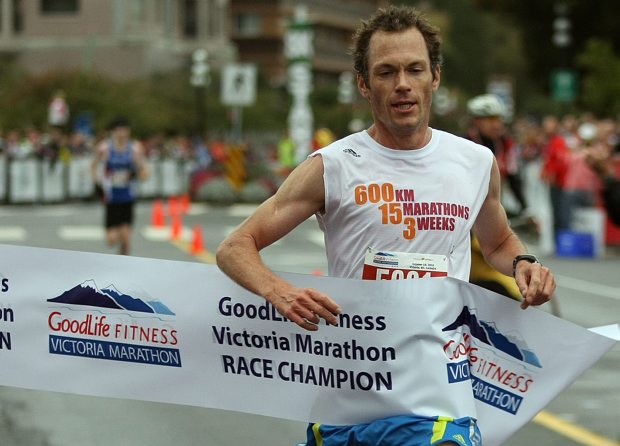 Jim Finlayson wins the men's half-marathon during the 2010 Goodlife Fitness Victoria Marathon. The running coach was diagnosed with multiple sclerosis in 2009.
Photograph by:
Adrian Lam , timescolonist.com (2009)
Six Victoria runners are temporarily replacing their running shoes with bicycles to help raise awareness of multiple sclerosis in a planned 13,500-kilometre bike ride to Los Angeles.
The inspiration behind the long-distance ride is the team's running coach, Jim Finlayson, who continues to compete while battling MS.
Finlayson trained all six runners over the years and says he's overwhelmed by the loyalty of his friends, who dubbed their trip the EpicMSycle. He plans to follow the trip via their blog posts as the team, which leaves June 28, cycles from Victoria to California via the Oregon coast, arriving at Santa Monica Beach on July 15.
"The excitement level starts to rise the more you hear about the rides and the extent of what this undertaking actually is," he said.
Daniel Ethier, one of the friends who came up with the idea, said the trip is a way to give back to their coach. "He's helped us reach our goals in terms of running and training. Now we want to do something for him."
Ethier will be joined by Jason Bowers, Jim Forbes, Peter Sanderson, Karen Simmons and Ed Welwood for the trip. Local chapters of MS societies are planning to host events along the way.
Regular athletic injuries and a rigorous training regimen are more difficult for Finlayson, 39, who has occasional setbacks with MS. He was diagnosed in 2009 with the autoimmune disease that affects the brain and spinal cord and can impair vision, hearing, memory, balance and mobility.
Fatigue and general clumsiness are the two biggest symptoms Finlayson experiences. At times, he is forced out of competitions because of MS, but with proper treatment and a healthy dose of exercise, he still sees himself racing.
"If my body will let me do it, I'd like to keep going with it," he said. "I just have to always be aware of what my body's doing."
Simmons is inspired by her coach's drive to continue running through his physical roadblocks. "Even last year, when he was down for five months because of this disease - not only does he come back from being debilitated, he comes back to win races," she said.
Finlayson has a long history of running success. He earned silver medals in the 10,000-metre at the Canadian Junior Track Championships and the Pan Am Junior Games in 1991. He's also a two-time Canadian marathon champion and the winner of the 2010 Goodlife Fitness Half-Marathon.
Money raised from the EpicMSycle will go to the Multiple Sclerosis Society of Canada. Riders hope their trip will raise awareness of the disease, which affects about 75,000 Canadians.
The team has created links for donations through the project's website, www.epicmsycle.com. dspalding@timescolonist.com
We thought you might also be interested in..
Notice
: Undefined index: event in
/home/viccity/public_html/v2/content.php
on line
67