Confusion for seniors over tax credit details
Apr 04 2012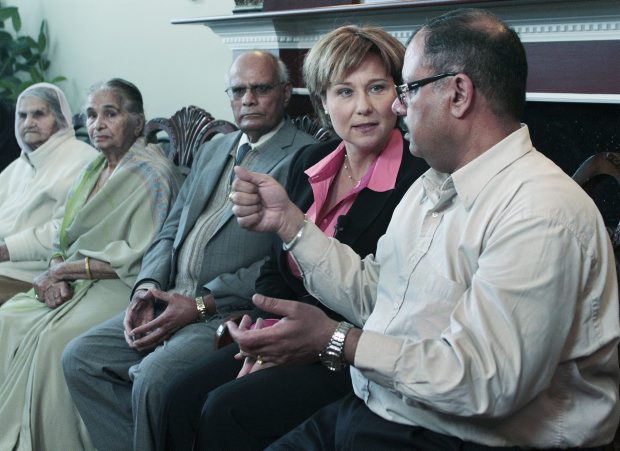 Premier Christy Clark speaks with homewoner Ashok Dhaul during a news conference to promote the senior home renovation tax credit last week.
Photograph by:
Lyle Stafford , timescolonist.com (March 2012)
Seniors are confused about whether they're eligible for a new home renovation tax credit because details and eligibility haven't been finalized by the provincial government, says the Opposition NDP.
The seniors' home renovation tax credit program, which offers up to $1,000 for household improvements that help people over 65 remain in their homes, began Sunday.
But it has yet to be passed by the legislature, and the types of projects that will be eligible haven't been finalized.
Saanich South NDP MLA Lana Popham said she had a group of seniors come into her constituency office Monday asking for details and application forms.
"They just wanted to start some projects," Popham said.
"A few of them thought maybe they were able to get this for doing a roof on their house. That led us to investigate a little bit and [we] realized the legislation for this program hasn't come to the legislature."
The worry is that seniors may start expensive renovation projects only to discover later that they don't qualify for the credit, said Popham.
"It leads to confusing people and adding doubt into a program that's supposed to be good news for seniors," she said. "It's not a very good thing to do."
The seniors home renovation tax credit was announced in the February provincial budget. Premier Christy Clark re-announced it last week in Saanich.
"People live longer when they are able to stay in their home, so we want to help enable that," she said. "That's what this home renovation tax credit is all about."
The premier did not mention that eligibility rules and other details hadn't been finalized.
The Finance Ministry has released a list of projects it intends to make eligible, including installation of handrails, walk-in bathtubs, wheelchair ramps, elevators and motion-activated lighting.
But some items, such as "certain renovations to allow for a first-floor occupancy or secondary suite for a senior relative," offered vague descriptions and a warning they must be "disability related."
The government also provided a list of projects it intends to exclude from the program, including general maintenance, roof repairs, windows, flooring, insulation, painting, medical monitoring devices, home security, smoke alarms, appliances and housekeeping or gardening services.
It's unclear whether any of the details could change before the legislation is passed.
A statement by the Finance Ministry said the legislation should be introduced this spring. People will be able to claim the tax credits on next year's personal income tax return.
In the meantime, the ministry said people can ask about eligibility by emailing ITBTaxQuestions@gov.bc.ca or calling 1-877-387-3332.
rshaw@timescolonist.com
We thought you might also be interested in..