Camosun's applied communication program could be on the chopping block
Apr 04 2012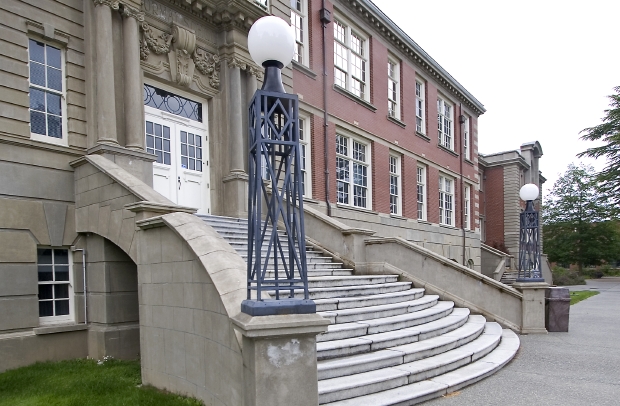 Camosun College expects to meet part of its staff cutting target through attrition.
Photograph by:
Darren Stone , timescolonist.com
Camosun College remains tight-lipped about classes and programs affected by a round of budget and job cuts next year.
College officials began meeting with staff today to brief them on the cuts. More information is expected to be released later today.
But it appears the college's applied communication program is one of those on the chopping block. A post on the program's website this morning indicates that the course is under review and no longer accepting applications for September 2012.
The two-year program prepares students for careers in TV, radio, web and desktop publishing, journalism, photography, and public relations.
Students gain on-air and production experience on the college radio station, Village 900 AM. The station's website at www.villagenow.net was "blacked out" this morning in recognition of job losses at the college.
"Our hopes and best wishes are with all those affected," a message on the website said. "We apologize for any inconvenience and hope to return to blog another day."
Camosun spokesperson Joan Yates was unable to confirm whether applied communications is one of the programs hit by the cuts.
"I can't at this point, because we're still going through conversations with folks organizationally," she said. "I will be able to give you some details as soon as that has happened, and I'm hoping it will be at the end of today."
The college confirmed earlier that it will have to cut more than 40 jobs this year to balance its budget. Officials expect to eliminate most of the positions through attrition and early retirements, but 15 to 20 employees could receive layoff notices.
Students will also pay two per cent more in tuition fees.
Camosun president Kathryn Laurin said the college was facing a $2.5-million shortfall largely because the B.C. government provided no additional money to deal with rising costs over the past three years.
"We're in an era of flat funding, which means we don't get any costs to cover inflation," she said. "That means we're carving out a couple of million dollars from our budget every year that we have flat funding."
Laurin said the college tries to offset the deficit by raising money in other areas, but that revenue also dipped.
"We're at a juncture now where we can no longer preserve and protect all of our program offerings and services," she said.
The board of governors approved a $104-million balanced budget Monday night, but details of the cuts and the programs affected were withheld until officials had a chance to meet with staff.
The college, which has 900 employees, plans to eliminate 6.6 administrative positions, 22.5 support workers and 17 faculty members.
The job cuts will be partially offset by the addition of 12.6 positions in new areas, such as a medical radiography program that received $3.4 million in start-up money from the provincial government.
lkines@timescolonist.com
We thought you might also be interested in..