City charged up over program funding electric-car stations
Apr 05 2012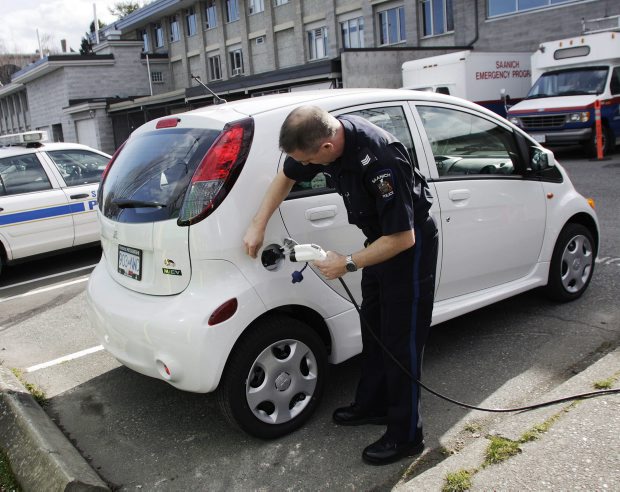 Sgt. Dean Jantzen charges a Saanich police electric car.
Photograph by:
Lyle Stafford , timescolonist.com (March 2012)
The Capital Regional District hopes to plug into a provincial grant program, but more dedicated charging stations for electric vehicles are probably about a year down the road.
The B.C. government this week announced $2.74 million for 570 car-charging stations throughout the province.
While the CRD plans to tap into those funds on behalf of all 13 municipalities in Greater Victoria, the first step will be to develop a personal electric vehicle strategy, says Sarah Webb, CRD climate action program manager.
"We've had our eye on it since the province first made their announcement back in November about the clean transportation program," Webb said.
The strategy will try to develop a degree of consistency in implementation areas such as station design; ideal locations; fees and implications on bylaws.
Webb said the capital region has the highest usage of hybrid vehicles per capita, and electric vehicles are expected to see the same kind of interest - though she notes "we've just had a few sales in the capital region."
Webb said the CRD will be applying for funds for the strategy as well as for installation of Level 2 charging stations. The stations offer 240-volt outlets, while Level 1 stations are essentially standard 120-volt outlets.
"The idea with the charging station is that someone could come up to, say, a recreation centre, charge in while they have a swim or work out at the gym, and then be able to move along," Webb said. "They are designed to be able to be located in central facilities, to perhaps really charge people's batteries, but also reduce range anxiety for people with electric vehicles."
Webb said it is not yet clear whether the infrastructure grant money will be for some sort of cost sharing or for full funding.
She has heard capital cost estimates of $15,000 for Level 2 stations and estimated it could be a year before dedicated stations are brought on line.
"But one of the exciting opportunities is that as communities look to implement electric vehicle charging stations, there's real opportunities to reduce costs by group purchasing. We might partner, for example, with other regional districts," Webb said.
There are a small number of Level 1 charging stations at some City of Victoria parkades, retail outlets such as Canadian Tire and Thrifty Foods and at the University of Victoria, Webb said.
There are only two Level 2 charging stations in the city, including one in front of the Fairmont Empress hotel, said Cam Rawlinson, of the Islands Chapter of the Vancouver Electric Vehicle Association. The fledgling group boasts 53 members, 26 of whom live in Greater Victoria.
bcleverley@timescolonist.com
We thought you might also be interested in..