Frozen berry blend may be linked to hepatitis A
Apr 06 2012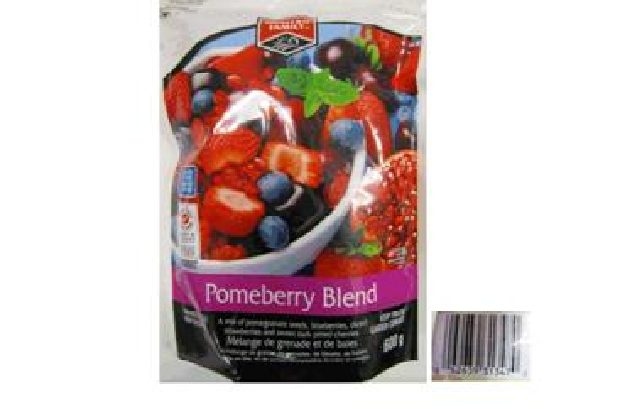 The B.C. Centre for Disease Control says don't eat Pomeberry Blend frozen berries manufactured by Western Family because it may be linked to the hepatitis A virus.
Photograph by:
Supplied photo , timescolonist.com
B.C. health officials are warning the public not to consume a particular frozen berry blend from Western Family because of possible hepatitis A virus contamination.
The B.C. Centre for Disease Control said Friday that, as a precaution, consumers should not eat Pomeberry Blend frozen berries manufactured by Western Family.
The Centre and regional health authorities are investigating eight cases of hepatitis A over the past two months in the province. Five out of eight people who contracted the virus consumed the Pomeberry product. The frozen berries are distributed through Save-On-Foods and Overwaitea.
There is as yet no proven link between the virus and the frozen berry Pomeberry Blend, however, consumers of the product are advised to discard it.
The overall risk of exposure to the virus is considered very low at this time and therefore vaccination is not being recommended. That decision will be reassessed as the investigation continues next week, according to the Centre.
This particular blend contains frozen pomegranate seeds, blueberries, strawberries and cherries.
"No other frozen berry products from Western Family are a concern at this time," according to the B.C. Centre for Disease Control, in a news release.
Hepatitis A is a preventable disease of the liver caused by the hepatitis A virus, which can last from a few weeks to several months.
It can be transmitted by an infected person preparing food with inadequately washed hands. Symptoms of the disease, which include fever, nausea, vomiting, abdominal pain and jaundiced skin, usually don't occur until a week or two after exposure and can take up to 50 days before you feel sick.
The symptoms can also be so mild that people don't know they are infected. Most people completely recover and then are immune to re-infection, according to the Centre,
Today's announcement comes on the heels of another hepatitis A scare last week.
A worker at the Victoria's Fairways Quadra store's deli counter was diagnosed as having hepatitis A on March 30. The store's manager noticed the worker was ill and sent the person home on that Friday. Once a diagnosis was confirmed, the Vancouver Island Health Authority was notified and vaccination clinics began immediately.
Free hepatitis A vaccination clinics will continue to be offered Saturday at the public health unit at 1947 Cook St., from 1 p.m. to 4 p.m. The clinic is intended for people who ate deli food at the Fairway Market at 2635 Quadra St. on March 25 and 26.
There is no link between the Quadra store and the Pomeberry Blend frozen berries.
As of Wednesday afternoon, 1,760 people ranging in age from toddlers to seniors had received the vaccination.
VIHA urged anyone who may have eaten food prepared instore on March 18, 19, 20, 22, 25 or 26 to receive a hepatitis A vaccine as a precaution. Any food purchased from the deli during that time should be thrown out.
The alert does not apply to sushi, produce or foods purchased from other areas of the grocery store. The alert does it apply to the other nine Fairway Market stores in Victoria and on Vancouver Island.
If you consumed Pomeberry Blend frozen berries manufactured by Western Family and/or have symptoms compatible with hepatitis A infection you can:
* call the 24-hour HealthLink BC Line at 8-1-1
* contact your physician
* view the BC HealthFiles on Hepatitis at www.bchealthguide.org/healthfiles
* view the hepatitis A page at bccdc.ca.
We thought you might also be interested in..