Saanich overhaul of key UVic artery sidetracked by roundabout plan
Apr 07 2012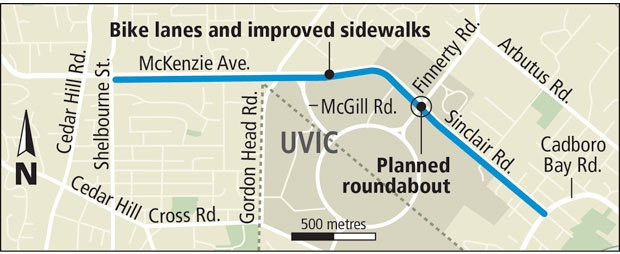 Plans call for upgrades along the McKenzie Avenue approach to the University of Victoria, including bike lanes, sidewalks and a roundabout
Photograph by:
... , timescolonist.com April 2012
Saanich is eager to overhaul the McKenzie Avenue approach to the University of Victoria, making it more friendly for cyclists and pedestrians, but the $5million project has been sidetracked by questions about whether a roundabout is needed.
Construction was to start this summer on a stretch of McKenzie from Shelbourne Street to Cadboro Bay Road. But the municipality has decided to spend more time reviewing the plan with area residents who have raised concerns about building a roundabout - the first major one for Saanich - at the intersection of McKenzie Avenue and Sinclair and Finnerty roads.
The roundabout was to be built in the first part of the project.
An open house on the road-upgrade plan, which Saanich has been working on with UVic input since 2002, is scheduled for this month, so Saanich council decided to include the roundabout plan in that discussion.
"Staff thought it was more meaningful to discuss the entire project," Mayor Frank Leonard said.
The meeting is set for April 24, from 4 p.m. to 7: 30 p.m. at the University of Victoria Student Union Building.
Leonard described the plan as "critical to the servicing of UVic," which has about 20,000 students and 5,000 employees.
With UVic's emphasis on non-car transportation, pedestrian and cycling access to the university is a high priority, Leonard said. Saanich has already collected almost $2 million in development charges from UVic for the road improvements.
The project starts at Shelbourne and McKenzie, adding painted bike lanes on the 750-metre stretch, a new road surface and sidewalk improvements.
As well, right-hand-turn lanes off McKenzie will be narrowed and sharpened to slow traffic, said Jim Hemstock, Saanich's transportation manager.
"Now, they look more like right-turn lanes you'd see on a highway," Hemstock said.
The two-lane road from McGill to Finnerty would be widened to allow room for a median lane with left-turn lanes, bike lanes and sidewalks.
"UVic is one of the largest cycling destinations in B.C. and there are no bike lanes" along that section of McKenzie, Leonard said.
"UVic students and staff are doing a great job of increasing bike traffic.
We've got to keep encouraging that by getting the infrastructure they need there."
The most contentious aspect of the plan is the roundabout. Some residents argue the signalled intersection is fine the way it is, but Saanich engineers say a roundabout is an environmentally friendly option - fewer greenhouse-gas emissions occur at roundabouts - and good for cyclists and pedestrians.
Leonard hopes the project will proceed this year, although the timing depends on designs and community response.
"The money is still in the budget. It's not being taken out," Leonard said. "It is only the timing that is changing."
kwestad@timescolonist.com
We thought you might also be interested in..
Notice
: Undefined index: event in
/home/viccity/public_html/v2/content.php
on line
67