Why a mom's heart can't heal
Apr 07 2012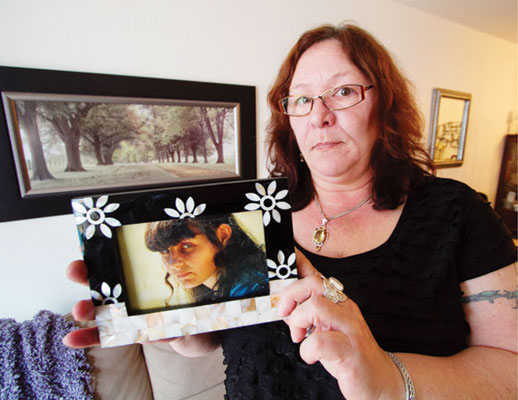 Rachelle Warner with a photo of her daughter, Marilynne Neill, last seen on Feb. 16, 2003. Neill would be 40 this year.
Photograph by:
Darren Stone , timescolonist.com (April 2012)
Rachelle Warner knows in her heart that her daughter Marilynne Neill is dead.
"If she was alive, I would certainly have heard from her," said Warner. "She loved the earth her two daughters walked on. She would not have left her children behind."
This week, a B.C. Court of Appeal decision showed that convicted murderer Daniel Christopher Myles Aitken was a suspect in Neill's disappearance and death.
Neill was the girlfriend of Aitken's best friend, Matthew Poole. She was last seen on Feb. 16, 2003, the day before she and Poole were supposed to appear in Victoria provincial court on a drug-trafficking charge. Police believe Neill was murdered, although her body was never found.
In an interview after reading about the appeal court decision, Warner said she wants to ask Aitken and Poole if they know anything about her daughter's disappearance. The RCMP confirmed this week the investigation into Neill's death continues.
Every day, Warner struggles to keep her mind from terrible places and wild imaginings.
"It's the pain of never knowing," said Warner. "I don't know how to explain it. I just feel like I really, really, need something. I don't know what, but I need something to get some closure. My heart is so broken."
The family has a memorial for Neill at Royal Oak Burial Park, but Warner has not been able to put her daughter to rest.
"It's kind of going in my head, I'd be happy with a bone. At least it would be something," said Warner, her eyes filling with tears.
Neill would turn 40 this year. In two weeks, her eldest daughter is getting married. Both girls are beautiful, said Warner. Both graduated from high school and are doing well.
"Marilynne will be on our minds at the wedding. I'm really going to miss her, although we'll feel her peaceful spirit. We'll all just take a moment together," said Warner. "Junkies are people, right. They still love and are caring. They do things for other people."
Warner looked at a photograph taken when Neill was about 18 months old.
"She was the most beautiful baby," said Warner.
"Look at those bright blue eyes, the smile. Wasn't she just the cutest-looking little thing?"
Flipping through photographs helps Warner think about simpler, innocent times.
They didn't last long.
At 12, Neill started getting into trouble. Her parents had separated and both remarried. Neill lived first with her father, then with her mother. She started using drugs around the age of 15 or 16. At 17, three months pregnant, she was arrested for robbery. She spent most of her time during that first pregnancy in juvenile detention.
After the baby was born, Neill began another relationship and got into harder drugs, said Warner. "Her boyfriend made her work the street. I saw her there once. I didn't want to, but I saw her."
When Neill became pregnant with her second child, she stopped doing drugs.
Both of her children were taken into care.
Sometime later, Neill met Poole, said Warner.
"He made her happy. He took her off the streets.
They had a nice house and Marilynne kept it spotless and cooked great meals.
There were definitely happy times. She always made sure she had a room for the children."
Although she was a drug addict, Neill was great with her children, said Warner.
"She just had that monkey on her back. She just couldn't shake it, much as she loved her daughters."
Warner recalled that when Neill and Poole were arrested for drug trafficking, Neill said she would take all the blame. She was in a bad place, said her mother. She had stolen about $20,000 from Poole.
"She wanted to show up that day. It was her way of trying to get clean. She said, 'Oh mum, I'll do the two years and I'll come out clean and move ahead with my life with my children.' "
People go through life, boyfriends come and go and people get hurt, said Warner.
"But I felt my heart was actually breaking when I realized Marilynne was on drugs and I couldn't do anything about it."
Over the years, they talked about the dangers of her lifestyle. Neill was horrified when she found out one of her friends had been murdered and thrown into a dumpster in Vancouver.
"She was so hurt for her friend," said Warner.
In mid-February 2003, Warner's worst fears were realized. She got a phone call from Neill's landlord saying Neill hadn't been seen for four days.
In the first year after Neill's disappearance, Warner looked down every alleyway in Victoria. Now, she soothes herself by saying prayers to her daughter and thinks of her when she looks at the moon.
"Marilynne belongs in this family. She's supposed to be here and she's not.
There's an emptiness when we get together for birthdays, dinners and Christmas. There's a spot missing."
Warner is hoping someone will come forward with information.
"As long as I never know, I'll never heal."
ldickson@timescolonist.com
We thought you might also be interested in..