Fraud in the cards: Gangs pile up profits
Apr 08 2012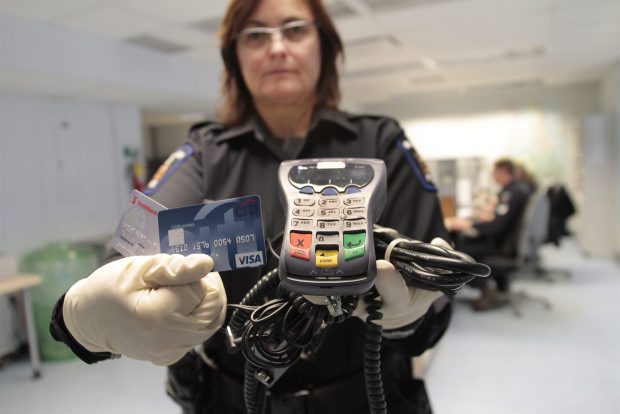 Saanich Const. Petra Dornblut, with evidence seized from this massive credit card and PIN-pad fraud investigation
Photograph by:
Lyle Stafford , timescolonist.com (April 2012)
Credit-and debit-card fraud has dogged police in Greater Victoria since the beginning of the year and the RCMP say it has become the new currency for organized-crime groups hungry for profit.
Last month, Saanich police caught four men from the Lower Mainland who were using dozens of stolen credit-or debit-card numbers - obtained using doctored card readers in Calgary and Surrey - to make big purchases across downtown Victoria.
Victoria police arrested two people who had a hotel room full of credit-card skimmers, fake IDs and counterfeit gift cards.
And West Shore RCMP are warning about a spike in people trying to manually enter credit-card numbers, usually a red flag that a card is fake. Entering the numbers manually wouldn't require a personal identification number or PIN.
"In the last couple of months, we've had a lot more files come across our desk," said Sgt. Andrew Cowan, who heads the Island chapter of the RCMP's commercial crime unit.
Neither the RCMP nor Saanich or Victoria police had statistics on how many frauds have been reported this year compared with the first part of last year. But they said anecdotally, incidents of payment-card fraud are up.
"There has been much more activity with groups on the Island," Cowan said.
The Island's six-member RCMP commercial crime unit has been brought in to investigate the Saanich case, which has turned out to be a sophisticated creditcard and PIN-pad fraud spanning three provinces.
The unit has the expertise to look at the Island files' links to Greater Vancouver and other parts of the country, Cowan said.
"That makes a big difference to the prosecution and Crown counsel, so we can present the big picture of how this links into so many different offences."
Credit-card fraudsters rarely stay in one place.
They bounce from province to province, collecting numbers from an area where they've set up a fake PIN pad, creating false cards and using them to make large purchases elsewhere, hoping to stay one step ahead of authorities.
Police are noticing that these tech-savvy criminals are linked to larger organized-crime networks, and say the money isn't just being used to buy big screen TVs and furniture, but also weapons and drugs.
Compared to organizedcrime schemes like drug trafficking, credit-card fraud is quicker and easier, with a bigger cash payoff, less violence and lower penalties.
"With grow-ops, there's a lot of work, time growing plants and selling them," said Const. Karen Phillips, an investigator in Saanich police's commercial crimes section. "This is the new crime - it's an easy way to make money."
Saanich police allege the four men arrested from the Lower Mainland had been active for months across B.C. and Alberta. They were caught March 11, thanks to an alert store owner at Qoola, a frozen yogurt bar in the Uptown plaza. He saw four men trying to steal the store's PIN pad and flagged down a patrol officer.
The men were arrested nearby. Investigators eventually raided a room in the Hotel Grand Pacific and searched a Mercedes, uncovering four stolen PIN pads and 60 counterfeit cards that used numbers skimmed from doctored PIN pads in Surrey and Calgary. Police are still investigating how many card numbers were skimmed, but it could be in the thousands.
"[The arrest] is a huge success," Phillips said, standing in front of a thick stack of fake cards, soldering equipment and tools used to crack open the PIN machines.
The men had only a few days of living large in Victoria - racking up big tabs at downtown bars, even leaving a $180 tip for one waitress.
Facing 16 fraud-related charges each are: David Khoi Dang, 24, of Richmond; Domingos Gregario Usseni, 40, of Surrey; and Vancouver residents Nicholas George Lakomy and Rodney Samuel Boucher, both 32. kderosa@timescolonist.com
Despite the fraud spike on the South Island in the last three months, financial institutions report creditand debit-card fraud is on the decline, largely because of the more secure chip technology rolled out across Canada in the last three years.
Every credit and debit card is supposed to have a chip by the end of 2012 and thieves have yet to duplicate the microchip, which conducts a security check with your financial institution in the seconds it's processing in the PIN pad.
"It is the best, most secure technology we have for payment cards," said Interac spokeswoman Caroline Hubberstey. "It has not been broken and we can see the evidence in that we've seen a decline in debit-card fraud here in Canada."
For police, it's a cat and mouse game, however, where they're constantly trying to keep up with new schemes employed by fraudsters.
"Right now the banks - they're saying the chip's the ultimate answer - it's never going to be beaten. Well, guess what? Eventually it will be beaten," said Det.-Const. Greg Shaw, who works in Victoria police's financial crime unit.
Const. Catherine Colthart, who works with the Island RCMP's commercial crimes section, stands next to a table covered with fake gift cards, credit cards, stolen PIN pads, a laptop and several hard drives - all evidence from a Victoria police case where patrol officers stumbled on a credit-card fraud operation in a downtown motel.
Police officers had been called to the Vacation Inn at 3020 Douglas St. on an unrelated matter when they discovered a hotel room full of credit-card skimming devices, tampered PIN pads and fake B.C. drivers' licences. Police also found about a dozen pre-paid credit cards or gift cards loaded using stolen creditcard numbers.
Gift cards are used because the fraudsters know there's less chance they'll be asked for ID.
It's not one of the biggest files Colthart has handled, but it will take investigators weeks to pore over the credit-card information and personal information stored on the electronic devices.
HOW CRIMINALS DO IT
Thieves and fraudsters no longer have to physically steal a credit card to spend someone else's money.
They'll doctor a PIN pad, using cannibalized parts from other stolen PIN pads, and use blue tooth technology to scan the magnetic strip of every card that is swiped on that machine while recording your PIN.
Thieves will usually go into a store in pairs. One distracts the clerk while the other swaps the good PIN pad for the doctored one.
Using a card reader, which can be purchased on the Internet, the fraudster will fabricate an entirely new card with the stolen magnetic stripe and PIN. Some counterfeit credit cards have numbers embossed on the front that are different from the number contained in the magnetic strip, which is why police say store clerks should always compare the credit card number on the receipt with the one on the card.
However, sophisticated criminals will ensure the numbers match. Some will also create drivers' licences or complete fake identities to match the counterfeit credit card.
It has become the second most common type of credit-card fraud, behind people making fraudulent purchases via the Internet, phone or mail using stolen credit-card numbers.
The three major creditcard companies - Visa, MasterCard and AmericanExpress - lost almost $105 million in 2010 from counterfeit credit-card purchases in Canada, according to the Canadian Bankers Association.
Credit-card companies lost $176 million that same year to people making fraudulent purchases, using only the card number, online, by phone or by mail.
Another technique thieves use is to create a false-front ATM machine - an entire piece of plastic that fits over the machine or a small piece that fits over the card reader - that scans your card while a tiny camera records your PIN. Thieves will also target parking machines or gasstation pay machines
HOW TO PROTECT YOURSELF
The RCMP's Colthart says she'll actually tug on an ATM machine to look for loose parts or overlays around the card scanner or where you type in your PIN. Shaw will vigilantly protect his PIN, putting his hand over the pad, even if there's a plastic hood, which can sometimes be rigged with a tiny camera.
Before using debit or credit at a store, Colthart recommends giving the PIN pad a good inspection, looking for ripped stickers, missing screws or other evidence that it's been tampered with. She also recommends using ATMs from financial institutions rather than the no-name ones in convenience stores and bars, which are more commonly breached.
Sgt. Andrew Cowan, who is also from the RCMP commercial crimes unit, suggests changing your PIN regularly and checking bank statements often to ensure there are no unusual transactions.
Const. Karen Phillips of Saanich police's commercial crimes section recommends that people call the police in addition to their financial institutions if they've been defrauded. Sometimes banks will reimburse the customer without calling the local authorities if it's a small amount, but Phillips said any information could be valuable to police.
Police say store merchants should treat PIN pads like cash, either hardmounting them to the counter or noting the serial number at the beginning and end of each shift to make sure the pad hasn't been swapped with a bad one. Clerks should ask for ID when someone is making a big purchase and check that the credit-card number on the receipt matches the card.
Saanich police launched a campaign in 2008 encouraging merchants to put Saanich police stickers on their PIN pads so they'll notice right away if the machines have been swapped. Crime-prevention officer Const. Petra Dornblut has gone to 625 Saanich businesses to hand out the stickers and educate store owners and clerks about protecting themselves from fraud.
"We want to spread the word of what to look for and it will definitely make them more aware," Dornblut said.
She gives the example of the store owner at Qoola, who chased out four men trying to steal the PIN pad and flagged down police.
"Kudos to him for being vigilant," Dornblut said. "If all the stores were like that, it would make the [fraudsters'] job much more difficult."
kderosa@timescolonist.com
We thought you might also be interested in..