Vandals damage three Victoria Harbour Ferry boats
Apr 09 2012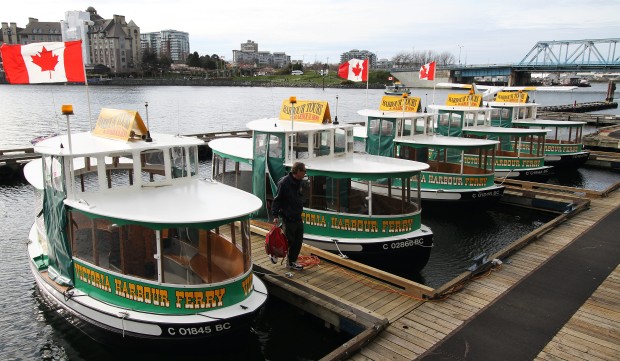 Boat operator Dave Knowlton walks among Victoria Harbour Ferry boats docked in the Inner Harbour on Sunday, April 8, 2012. Three of the boats were out of commission after being vandalized by two men Saturday evening.
Photograph by:
Adrian Lam , timescolonist.com
Victoria Harbour Ferry had three boats out of commission Sunday after two men cut their electrical systems in what appears to have been targeted vandalism.
Inner Harbour surveillance cameras show the men jumping security fences around 8:20 p.m. Saturday, then causing about $2,500 in damages before they left about 13 minutes later.
"They went straight down to the three boats, cut the seats out … then took snippers and snipped all of what I would call the essential operating wires," said Barry Hobbis, vice-president of operations for Victoria Harbour Ferry. "In my view, they knew exactly what they were doing and they did it very quickly."
Hobbis said he cannot think of any enemies the company has, nor does he know of any disgruntled employees.
The company normally would operate seven boats on an Easter Sunday, giving tours throughout Victoria Harbour to 800 or 900 passengers.
Hobbis met with his captains early Sunday and brought in one additional boat for the day.
"We got real busy, but we made it through the day without any real bumps," he said. "This is just a shame, though. Nothing like this has ever happened in 22 years."
The company likely will post a $500 reward for any tips that lead to the arrests of the two men.
"The video is clear enough that anybody who knows them will recognize them," Hobbis said.
dspalding@timescolonist.com
We thought you might also be interested in..