E&N Rail repairs head back on track
Apr 10 2012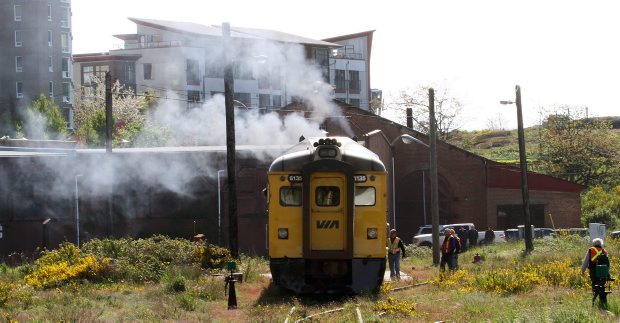 The E&N Dayliner travels through Victoria in a file photo. No passenger trains have run on the line since April of last year because of concerns about the track.
Photograph by:
ADRIAN LAM , timescolonist.com
Ottawa appears ready to invest millions of dollars in the E&N Railway.
Politicians from all levels of government plan to attend what appears to be a funding announcement scheduled for 10 a.m. today at the Via Rail station in Langford.
The rail line owner, the Island Corridor Foundation, has been waiting for months for a response from Ottawa to its request for $7.5 million, which would match the amount promised by the province to repair the decaying E&N track. No passenger trains have run on the line since April of last year because of concerns about the track.
Officials were tight-lipped Monday, when the foundation informed media outlets about the event. Most politicians did not return calls, and those who did revealed few details. There was agreement, however, that federal and provincial politicians would not show up with bad news.
"I'm looking forward to the announcement," said Langford Mayor Stew Young, a staunch supporter of the E&N. "We've been waiting a long time for this and I think it's going to be a good announcement."
Optimism was expressed by proponents of the railway last month when several federal politicians said funding was likely on its way. Nanaimo-Alberni MP James Lunney said at the time that he was expecting an announcement soon.
View Royal Mayor Graham Hill would not pre-empt Ottawa's announcement, but said several hundred letters from residents who support the E&N may have had something to do with the final decision.
"Those letters and the work that's been done by corridor foundation staff have been instrumental in bringing the importance of the E&N Railway back into focus," he said.
The foundation is also expected to reveal the contents of an infrastructure study that found repairs to the bridges and trestles along the 289-kilometre rail line from Victoria to Courtenay to be manageable.
dspalding@timescolonist.com
We thought you might also be interested in..