Bagpipes loud, not disallowed in the bustling downtown core
Apr 10 2012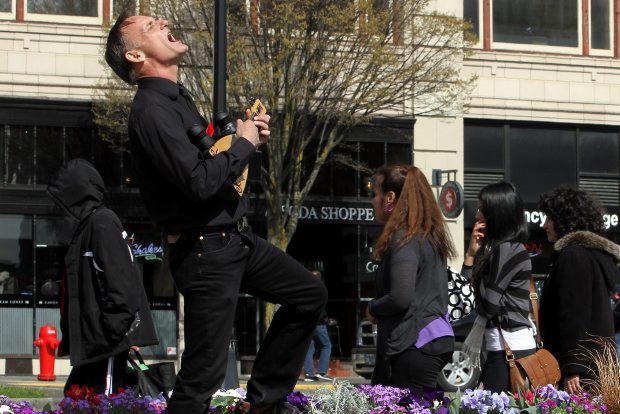 In case there were doubts that spring has struck a chord, Victoria is once again alive with the sound of busking.
Photograph by:
Bruce Stotesbury , timescolonist.com (April 2012)
Don't be getting your kilt in a knot over Vancouver's assault on the pipes.
There's no plan by Victoria to follow the larger city's foray into barring buskers from playing "noisy" instruments such as bagpipes.
"There's no mention of bagpipes is our busking bylaws and we've had no discussion of bagpipes in any context," said Coun. Chris Coleman. "We have an extraordinarily strong piping community in this town."
As prime busking season approaches, however, there are changes on the way designed to help buskers make a living while giving downtown merchants a break from artists with limited repertoires.
Last summer, council instructed that bylaw amendments be drafted so that buskers will be allowed to perform in one location for a maximum of two hours or until they have exhausted their repertoire — whichever comes first — and then not return for the rest of the day. Coun. Charlayne Thornton-Joe, who helped craft the changes, expects they will be adopted next month.
The changes will allow buskers to sell products such as CDs of their music or, in the case of chalk artists, postcards of their work.
The city also plans to pilot the use of a uniform sign this year that states the street entertainers are not paid by the city and are allowed to collect donations.
John Vickers, executive director of the Victoria International Buskers Festival, said measures such as standardized signs should be a boon for buskers. During last year's festival, 20 designated "busk stops" for street performers were met with positive response, he said.
"We had a number of local performers tell us they felt it positively impacted the tips they received, which they attribute to their location being designated as an official festival location," Vickers said. "People just felt it added more credibility to their location rather than somebody just busking on their own."
That's the idea, Coleman said.
"The intention was to allow easier access or a better understanding by the tourists who walk by and say, 'Oh, this is an independent businessperson' or 'It's an artisan who's fundraising,' " he said.
Coleman said changes to the regulations require great care.
"It requires a lot of thought," he said. "What you want is vibrancy on the street. That's the goal. Can we do more? Yes. But you have to think it through."
Changes will make compliance with the guidelines a condition for holding a busking licence. The guidelines include an entertainers' code of conduct, including allowable performances and prohibitions on intoxication or drug or alcohol use while performing.
Buskers currently have to pay $25 a year each for a licence. Council decided against introducing a group busking licence.
Vancouver city council will soon be dealing with the fallout from an engineering department review of that city's busking permits that found bagpipes, bongos, drums and tambourines were responsible for too many noise complaints. The city quietly changed its policy so that no busking permits are to be permitted for those four instruments.
Vickers said noise is one of his considerations when selecting performers for the buskers festival.
"Because I'm so packed in around the harbour, I really have to be sensitive to it just because it's so easy for one area to impact negatively on another area," Vickers said.
"So from the festival point of view, in terms of the stage performances, it's something we have to watch closely and take into consideration in our selection process."
The Victoria International Buskers Festival is slated for July 20 to 29 this year, with more than 600 shows and nine stages downtown.
(This story has been updated with corrected information.)
bcleverley@timescolonist.com
We thought you might also be interested in..