Bylaw officers dressed for the part
Apr 11 2012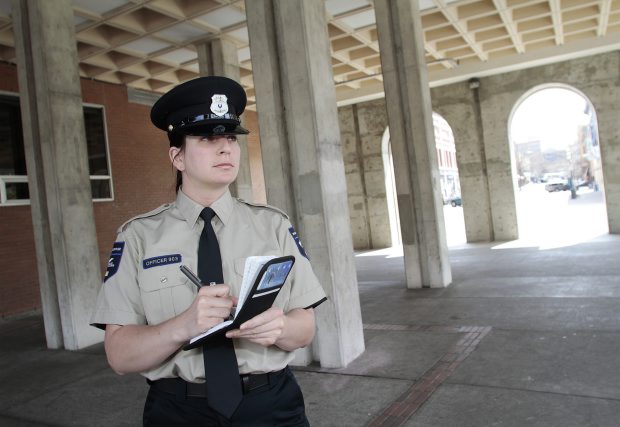 Bylaw officer Mia Franki in her new uniform.
Photograph by:
Lyle Stafford , timescolonist.com (April 2012)
Victoria bylaw enforcement officers are sporting new uniforms - a change sparked, in part, by an ugly confrontation between two officers and a homeless man in a city park 18 months ago.
Bylaw officers, who previously dressed in mainly plain clothes, are now wearing tan shirts with shoulder flashes, ties, officer forage caps and navy pants.
"It's just part and parcel of better training we're providing, better resources for them to deal with some of the challenges that are out there," Mayor Dean Fortin said of the uniform change.
Mark Hayden, city manager of bylaw and licensing services, says that with his staff of six officers increasingly taking on "proactive" enforcement of non-traditional regulations such as park camping bylaws, the new uniforms make for better identification of his staff.
"We were running into some problems where the public was failing to, perhaps, recognize the officers' authority. They were challenged and we had a couple of incidents," Hayden said.
"The basic concept of a uniform is so that the public will instantly recognize this is a city official and they have some authority. So if you're doing a regulated activity such as cycling in a park or street entertaining on a corner, or whatever, if the officer stops to chat with you people understand he's there to do a compliance check."
Fortin said the incident in the park sparked the need for both better training and the uniform change.
The confrontation between a homeless man and city bylaw officers in a neighbourhood park resulted in one of the bylaw officers being charged with assault.
The two bylaw officers - dressed in plain clothes - had been questioning the man about a shopping cart and clothing strewn about Kings Park, a tiny green space on Caledonia Avenue.
An internal management investigation into the incident by the city ruled out disciplinary action against the bylaw officer. The investigative report showed that the city looked into whether use of force was justified, but not into whether the level of force used - repeated blows to the man's head and shoulders - was justified.
The report said the bylaw officers had not been trained in team-based enforcement, self-defence or dealing with mental health and addiction issues.
"That incident did spark a review of are we providing adequate training, are we providing adequate resources?" Fortin said.
"So we're making sure our employees have the proper equipment and training to stay safe; to know when to disengage from situations but recognizing we're asking them to deal more and more with situations that they come across in the community."
The new uniforms were introduced April 1.
"We wanted to look like law enforcement professionals, but we didn't want to look like the city police," Hayden said.
Fortin said uniforms seem to not only command more respect on the street but also have an effect on the officers themselves.
"In the sense that if you are in an official uniform, you feel the weight and responsibility of that as much a recognition by the public that you are carrying that responsibility for," Fortin said.
An assault charge against bylaw officer Andrew Dolan is slated to be heard in court over three days beginning May 30.
There is no uniform dress for bylaw officers around the Capital Regional District. For example, CRD enforcement officers wear uniforms while Sanich enforcement officers have municipal jackets.
In Esquimalt, the lone part-time enforcement officer drives a municipal vehicle and has an ID badge that can be clipped to his pocket.
bcleverley@timescolonist.com
We thought you might also be interested in..