Library budgets altered to keep users logged on
Apr 11 2012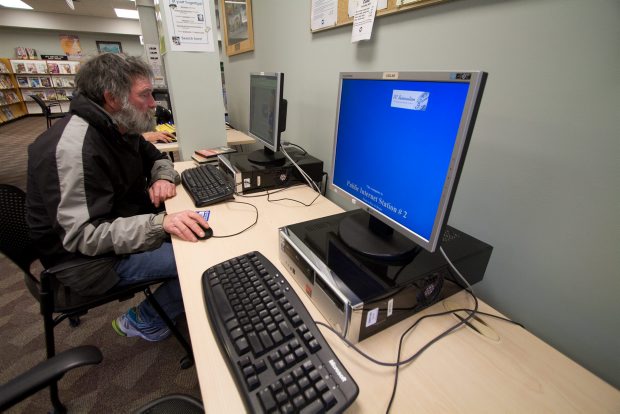 Jeff McBride uses a public access computer at the Central Saanich Library.
Photograph by:
Darren Stone , timescolonist.com (April 2012)
Greater Victoria Public Library officials will adjust their budget to keep free Internet access alive now that federal funding for the service has been cut.
Free or low-cost Internet had been provided through libraries and other facilities by the Canada-wide Community Access Program since 1995. It was discontinued at the end of March, and Industry Canada said in a statement that the cut came after the CAP had "achieved its objectives."
Patricia Eaton, the GVPL's manager of public services, said the same level of Internet access will be maintained despite the funding loss. Six of the library system's 10 branches are affected, each losing about $3,700 in funds.
"We're not going to be pulling any computers," Eaton said.
The Vancouver Island Regional Library, with 38 branches, will also keep free Internet going despite losing CAP funding of about $95,000, said spokeswoman Joy Bauer Adams.
GVPL technology manager Dan Phillips said maintaining established Internet access will require some planning.
"We'll just have to manage our projects slightly differently. We'll have to absorb that cost for that loss."
The high level of use is a key factor in keeping the computers active. Eaton said the smallest GVPL branch in Central Saanich has just five computers with free Internet, but they attracted 640 user sessions in the past month.
The main branch in downtown Victoria has 60 computers that generated 10,000 user sessions over the same time period.
"They're just crammed with people. If you walk into any of our branches you'll see people at those computers and you'll see people waiting."
People with limited means and students and are among those clamouring for Internet time.
"A lot of them are filling out forms that are only online," Eaton said. "They're sending in resumés that are only accepted electronically, and they're using email and Facebooking and all of those other things people need in order to stay connected.
"They really do require a computer system that works and is going to deliver."
Eaton said some of the funding from the federal program helped keep the computers up-to-date and allowed upgrades that kept them from getting old and slow, and the GVPL will do its best to follow suit.
jwbell@timescolonist.com
We thought you might also be interested in..