Camosun students take over campus radio station to protest cuts
Apr 12 2012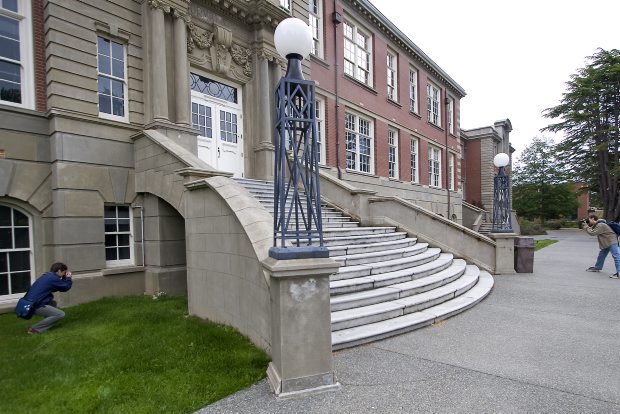 Students at Camosun College have taken over the campus radio station to protest cuts to the applied communications program.
Photograph by:
Darren Stone , timescolonist.com (April 2012)
Camosun students have taken over the campus radio station and plan to march on the president's office today to protest cuts to the college's applied communication program.
Communication students and alumni are taking turns on air, alternating music with talk breaks to explain the loss of their program and the Village 900 CKMO station, which livestreams online.
Marielle Moodley, who was on the air this morning, said protesters have also put up banners around campus and set up social media sites opposing the cuts, and intend to occupy the radio station overnight Wednesday.
"There's going to be a lot of students sleeping over at the station, occupying the station and hosting shows throughout the night," she said in a telephone interview. "It's one of the ways that we're trying to spread the message."
College president Kathryn Laurin announced the suspension of the applied communication program last week in a round of deep cuts to programs and services. The 40-year-old program, which trains students in journalism, broadcasting, publishing and public relations, will stop taking new students in the fall. The current first-year students will be its final graduating class.
Laurin said the college needed to make the cuts to erase a $2.5-million deficit and balance its budget, as required by the B.C. government. The college's funding has been frozen for three years, leaving no cash to cover inflationary costs.
Laurin spoke to the media on April 3 before the full extent of the cuts was known. She issued an internal memo to staff last Thursday identifying the affected programs. Among them, learning skills will be cut, English language development reduced and network electronics suspended.
Moodley said applied communication students plan to deliver a package of letters to Laurin after marching to her office at 12:30 today.
"We've had some alumni write her letters as well, just explaining why communications is important to Camosun college and important to Victoria," she said. "We think that she really needs to re-consider the decisions that she's made."
Moodley, who grew up in Victoria, said many of the program's students come from Vancouver Island and land jobs in their home communities upon graduation. She said that local connection will be lost if students are forced to travel to Vancouver to attend BCIT.
She also said students are angered by comments last week by Advanced Education Minister Naomi Yamamoto. Asked about cuts to the applied communication program, Yamamoto told the Times Colonist, "I don't know the answer to this, but I would want to know, first of all: Do we need communications people in B.C., and are there other institutions that are offering programs?"
Camosun plans to cut a total of 46 jobs to balance the $104-million budget.
Officials expect to eliminate most of the positions through attrition and early retirements, but 15 to 20 employees could receive layoff notices. The breakdown includes 6.6 administrative positions, 22.5 support workers and 17 faculty members.
Students will also pay two per cent more in tuition fees.
lkines@timescolonist.com
We thought you might also be interested in..