Teen killed in crash 'like a brother'
Apr 12 2012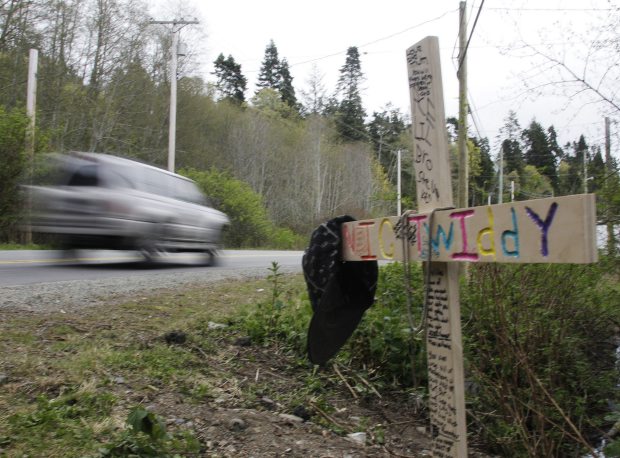 Roadside memorial for 15-year-old Nic Twiddy.
Photograph by:
Lyle Stafford , timescolonist.com (April 2012)
A wooden cross carved with Nic Twiddy's name rests at the spot where the 15-year-old lost his life Monday, when the car he was riding in flipped into a ditch on West Coast Road in Sooke.
A silver and black New York Yankees ball cap hangs from one arm of the cross and some necklaces hang in the centre. Written notes tell a story of a teen who was like a brother to his friends and like a son to many of the adults in his life.
"Forever and always my bro, peace and love," wrote a boy named Robert.
"Loved you like one of my very own sons and will always be in my heart," someone wrote in pink pen. A daffodil and a bouquet of carnations sit at the base of the cross, just a few metres from scattered pieces of the crash wreckage.
Twiddy died at the scene in the back seat of a blue Chevrolet Cavalier, which was allegedly stolen by the 18-year-old driver from a home on Church Road in Sooke.
Passengers Maria Forbes, 15, and her boyfriend, Steve Livingstone, 18, were also injured in the crash.
Maria suffered a cracked vertebrae, a cracked pelvis, a broken rib and broken bones in her face. Her mother, Jennifer Forbes, said Wednesday her daughter will likely remain at Victoria General Hospital for another week.
On Tuesday, Forbes had to tell her daughter that Nic, a close friend, had died. "I think she knew on some level," Forbes said.
Her daughter doesn't remember anything from the crash, she said. "She remembers getting into the car and that's it," she said.
Forbes said she harbours some anger toward the driver, who police say was speeding before he lost control on West Coast Road, causing the car to cut in front of an oncoming motorhome, take out a power pole and flip into the ditch.
"It seems like such a senseless, stupid accident," she said. "We all recognize that [the driver] is going to have to carry around the knowledge that he caused the death of a friend and - from what I read, he does seem to be very upset about it."
Police are recommending criminal charges against the 18-year-old driver, whose name has not been released. He was released on a promise to appear in court July 5.
Sooke RCMP Staff Sgt. Steve Wright said the teen believed to be the driver posted a note expressing remorse for the crash on his Facebook page, which police investigators are examining as possible evidence.
"We'll certainly look at it, looking to see if there's anything that was written that only the driver would know," Wright said. "And if that is the case, we could use that as evidence."
Messages of condolences and memories about Nic continue to flood a Facebook memorial page. A date has not been set for the funeral, but the family is encouraging friends to attend.
kderosa@timescolonist.com
We thought you might also be interested in..