$9.8 million project will eliminate need for Sombrio switchback on road to Port Renfrew
Apr 12 2012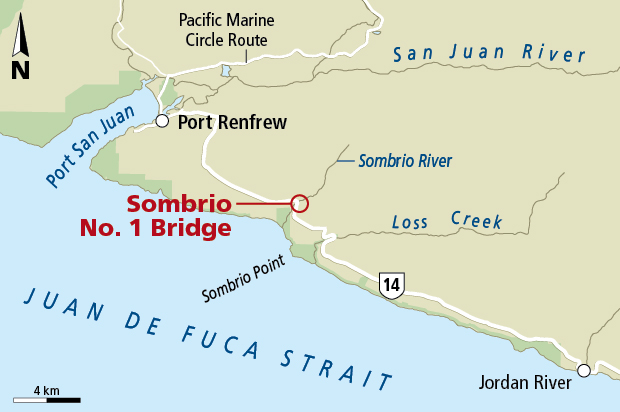 Location of Sombrio Number 1 Bridge on West Coast Road
Photograph by:
Times Colonist , Times Colonist
B.C.'s Transportation Ministry will spend $9.8 million this year to eliminate a particularly twisted and deadly section of West Coast Road near Sombrio Beach.
The government plans to build a new 5.4-kilometre stretch of road and 124-metre two-span bridge that will provide a much safer route along the highway just west of the access road to Sombrio.
Construction is expected to last between May and October of this year and will replace what is known as the Sombrio switchback, a curvy portion of the road police say is notorious for vehicle accidents.
The project is one of several upgrades that have helped transform the highway and improve access to Port Renfrew, said Mike Hicks, Juan de Fuca electoral area director.
"This particular switchback is just unbelievable. One bridge over this terrible gully will improve the road that much," he said. "It will complete years of repairs on this road."
Nanaimo-based Windley Contracting will construct the bridge and road just east of the current current 55-year-old timber bridge, eliminating the dangerous switchback altogether.
Two abutments will be constructed on site with a span added later to join the two sides. The project also includes resurfacing a 5.4-kilometre section of highway located near Sombrio leading up to the new bridge.
Sooke RCMP Staff Sgt. Steve Wright said the switchback was known for accidents, particularly those involving motorcycles.
"Of course, there are other contributing factors in some of those accidents, such as speed and driver inexperience, but this area has seen its share of accidents."
The ministry has repaired 22 kilometres along West Coast Road since 2010, including improvements to the Baird and Murton bridges and replacement of the Sombrio No. 3 Bridge with a new concrete structure.
dspalding@timescolonist.com
We thought you might also be interested in..