Letters illuminate Island's early ties to Scotland
Apr 12 2012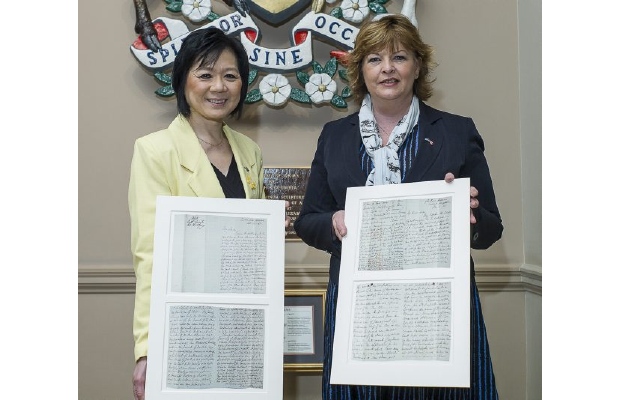 BC Minister of Community, Sport and Cultural Development Ida?Chong has received reproductions of historic documents from Scotland Cabinet Secretary for Culture and External Affairs Fiona Hyslop. Two letters, recently discovered in the National Records of Scotland, were written in 1848 and 1849 by Capt. Walter Colquhoun Grant who settled on Vancouver Island.
Photograph by:
Supplied photo, B.C. Government, timescolonist.com (April 2012)
Rare letters by Vancouver Island's first independent European settler and landowner in what's now known as Sooke, have been published for the first time by the Scottish government.
Two letters, dated 1848 and 1849, detail Capt. Walter Colquhoun Grant's plans for Vancouver Island, where he bought 200 acres of land, sought permission to name it "Mullachard" after his lord's estate in his homeland and tried to find new recruits for the colony.
Grant was the first European settler on the Island not connected to the Hudson's Bay Company, which established Fort Victoria in 1843.
The National Archives of Scotland recently published Grant's letters online for the first time, and Fiona Hyslop, the Scottish cabinet secretary for culture and external affairs, presented the B.C. government with a copy at the legislature Tuesday.
"These letters show a very personal connection to Scotland and Vancouver, particularly Vancouver Island," Hyslop said in an interview.
"I thought this was a precious document telling an important story about our connections."
Grant is considered responsible for introducing the game of cricket to the region, by providing cricket gear to local schools at the time.
He's less favourably known for importing Scotch broom from Hawaii. The invasive weed has aggressively spread over much of the Island and West Coast, choking out natural vegetation in its path.
The release of the two letters are "absolutely wonderful" for historians and the public, said Jan Peterson, a Nanaimo resident who recently authored the book Kilts on the Coast: The Scots who Built B.C.
"I wasn't even aware these letters existed," Peterson said.
"He was our very first independent settler. All of the others that came at the time were hired by the Hudson's Bay Company. He was a really important person in the progression of Vancouver Island becoming a colony."
Peterson's book outlines how Scots, starting with Grant, came to the Island to manage the Hudson's Bay Company's business in the fur trade and Nanaimo-area coal mining.
Sir James Douglas, who later became governor of the colony of Vancouver Island and then B.C., possessively controlled the land near Fort Victoria and forced Grant to buy 200 acres "as far away as possible from the fort," said Peterson.
Grant bought land near Sooke, which he sold to John Muir in 1853.
Archivists in the National Records of Scotland only recently discovered the Vancouver Island letters.
It's possible there are more records related to Vancouver Island, and Hyslop said she would help local researchers access Scotland's archives to search out new local material.
rshaw@timescolonist.com
We thought you might also be interested in..