Camosun students take over campus radio station to protest cuts
Apr 13 2012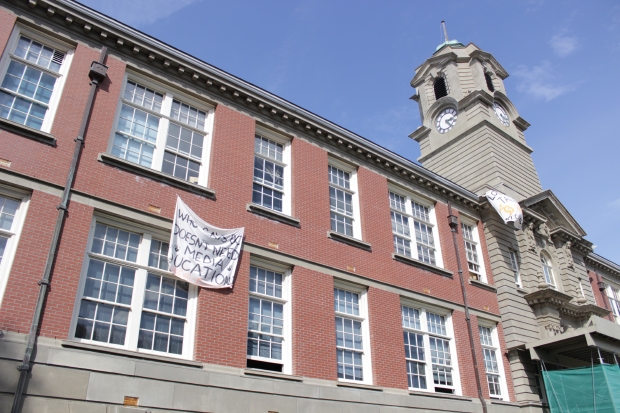 Students attached protest banners to Camosun College's Young Building.
Photograph by:
... , ...
Camosun College students have taken over the campus radio station to protest cuts to the college's applied communication program.
Students and alumni are taking turns on air and speaking out against plans to shut down the program and Village 900 CKMO.
Protesters also put up banners around campus, established social media sites and planned to stay at the radio station overnight Wednesday.
"There's going to be a lot of students sleeping over at the station, occupying the station and hosting shows throughout the night," said Marielle Moodley, a first-year communication student. "It's one of the ways that we're trying to spread the message."
Camosun president Kathryn Laurin announced last week that the college was suspending the two-year program.
The 40-year-old program, which trains students in television, broadcasting, publishing and public relations, will stop taking new students in the fall.
Laurin said the college needed to trim costs to erase a $2.5-million deficit and balance its budget as required by the B.C. government. The college's funding has been frozen for three years, leaving no cash to cover inflationary costs.
John Boraas, vice-president of education, said the college targeted areas that need updating and would affect the fewest students.
He said applied communication had about 40 students and needed renewal. The suspension gives officials a year to consider options such as launching a digital media program.
Laurin made clear Wednesday that the applied communication program in its current form is likely dead. "I think, at this particular juncture, we're looking to cancel the program," she told reporters.
Dylan Wilks, a second-year applied communication student, said the decision makes little sense when the college is going to need community support.
"It just seems really near-sighted to me at a time when they're going to need money," he said. "They're going to need positive press, and I don't know what other programs encourage students to spend as much time out in the community as this one."
Laurin confirmed the cuts last week. The learning skills program will also be cut, English language development will be reduced, and network electronics will be suspended.
lkines@timescolonist.com
We thought you might also be interested in..