Farmers sowing what they'll reap in Greater Victoria area
Apr 13 2012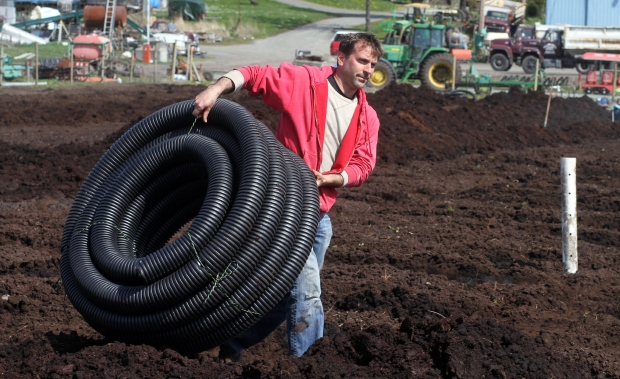 Rob Galey works to improve drainage at one of his fields off Blenkinsop Road in Saanich
Photograph by:
Bruce Stotesbury , timescolonist.com (April 9, 2012)
The region's farmers are busy year-round with different varieties of crops, but early spring stands out as the time that berries and other local favourites go into the region's fertile ground.
A harbinger of the season came with last Saturday's opening of the 2012 Moss Street Market, albeit for a short session of just two hours. The market's full schedule will begin in May.
Rob Galey of Galey Farms, who spent much of Monday atop an excavator, said it is too early to predict how the spring growing season will progress, but things are well underway.
"We've got about 10 acres of early potatoes in and we're fighting trying to get the strawberry plants in right now."
Moisture is the foe in getting the strawberries underway, said Galey, who farms in the Blenkinsop, Wilkinson and Interurban areas. "We've had a lot of rain in the last couple of weeks, and we need to get these crops in the ground, get them established."
Recent conditions have been both wetter and colder than he would like, Galey said. "We're hoping that it's not going to be like last year, when we were actually a month late because of the cold."
He said the first week of June is when strawberries, ideally, will be ready to eat. "Last year, they weren't ready until the last week in June."
Also in the ground already is an acre of carrots, which is just a start, Galey said.
"We want to get more carrots in quite quickly, and we want to get a lot more early potatoes in."
If all goes according to plan, locally grown potatoes also will be ready for the first week of June. Produce gets to consumers via streetfront sales or at grocery stores.
The Galey operation is also known for its attention to added attractions aimed at bringing people to the farm gate, from its corn maze to a Halloween haunted house and a minitrain that circles the farm in July and August.
"People can tour the berry fields and see everything in production," Galey said. "We'd never let people just wander the farm, so on the railroad we can actually give them a guided tour."
At Vantreight Farms, Ryan Vantreight said 2012 is bringing significant changes.
"We've got a huge expansion of crops that we're doing this year with our organic certification [several field and greenhouse crops have been given organic status] and the new direction we're taking with expanding our food programs."
More strawberries are being produced in 2012, for example, and the first of a greenhouse-grown strawberry crop is due to be picked today.
"We've got them earlier than everybody else," Vantreight said. Other food crops are also coming.
"Our food croppings are dwarfing our flower croppings these days," he said, in reference to Vantreight Farms' well-documented production of daffodils and other blooms.
Quite simply, people are getting more in tune with food production, Vantreight said.
"I'm seeing there's a definite shift in direction where people are paying a lot more attention to where their food's grown. What I'm trying to take the fifth generation of our farm into is more food production and organic growing."
Central Saanich farmer Jack Mar said hungry deer have done away with this year's strawberry plants, but he will have tayberries and raspberries on the go.
Rhubarb picking starts this week, and green onions and romaine lettuce are coming along in the greenhouse, he said.
As always, producing pumpkins for Thrifty Foods will be an important aspect of his farming activities, Mar said.
Mar said recent wet weather is having less and less of an effect. "It's drying out quickly, we're starting to work the land."
Vegetables begun in the greenhouse, like cauliflower, cabbage, broccoli and chard, will be planted soon, he said.
jwbell@timescolonist.com
We thought you might also be interested in..