Harbour Ferry vandalism proves costly
Apr 13 2012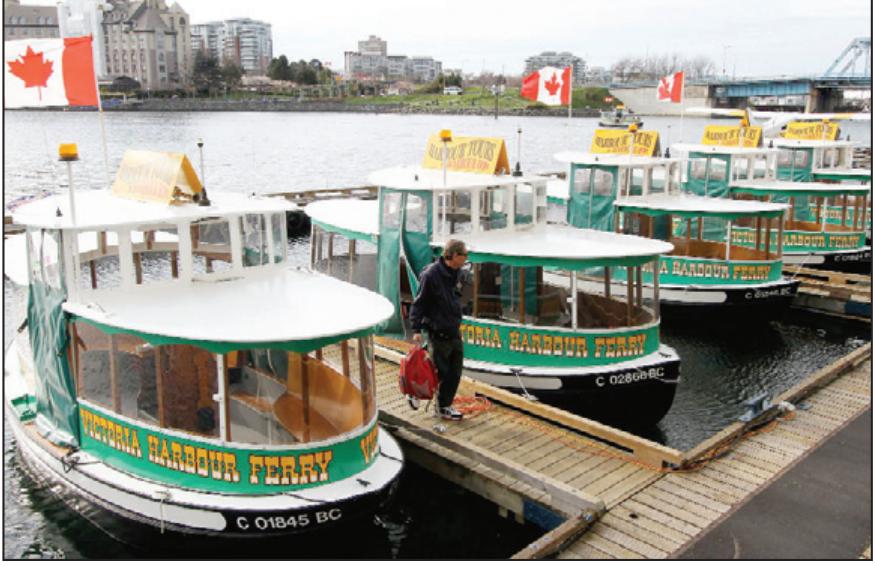 Boat operator Dave Knowlton walks Sunday among Victoria Harbour Ferry boats docked in the Inner Harbour after vandalism.
Photograph by:
Adrian Lam, Times Colonist , Times Colonist
Repairs to three Victoria Harbour Ferry vessels that were vandalized over the weekend will cost much more than expected, according to the latest estimates from the company.
Temporary repairs came with a bill for about $2,500. But all three boats, which conduct chartered tours throughout the harbour, will have to be removed from service and completely rewired.
Surveillance videos show two men scaling the chain-link fence where the boats are docked near Yates and Wharf streets Saturday evening. The vandals sliced up the electrical systems in the vessels.
Total repair costs are not known, but rewiring will be much more expensive, said Barry Hobbis, vice-president of operations for Victoria Harbour Ferry.
Hobbis is confident the vandals will be caught.
"I think one way or another, we're going to find these people," he said. "I'd be more than happy to let this go, if these two guys wanted to let me know why they did it. That's what's killing me."
Inner Harbour surveillance cameras show the men arriving about 8: 20 p.m. and leaving about 13 minutes later. Hobbis said he cannot think of any enemies the company has.
"I just want to know why they did it," he said. "If they had a few beers and were being silly, I'm OK with that. If it's more than that, I'd like to know."
The company likely will post a $500 reward for any tips that lead to the arrests of the two, but Hobbis said he would avoid criminal charges in exchange for the vandals coming forward.
"In lieu of dealing with police or the justice system, I'd be OK if they go to the Downtown Victoria Business Association to volunteer for five days with the cleanup crews," Hobbis said. "I don't want a couple of young guys winding up with a criminal record - as long as they say they're sorry and give something back to the community."
Several people are seen on the security video, walking by the area as the two men leave the area.
dspalding@timescolonist.com
We thought you might also be interested in..
Notice
: Undefined index: event in
/home/viccity/public_html/v2/content.php
on line
67