Obituary - Gord Sleivert: Sports scientist was always there for us, athletes say
Apr 13 2012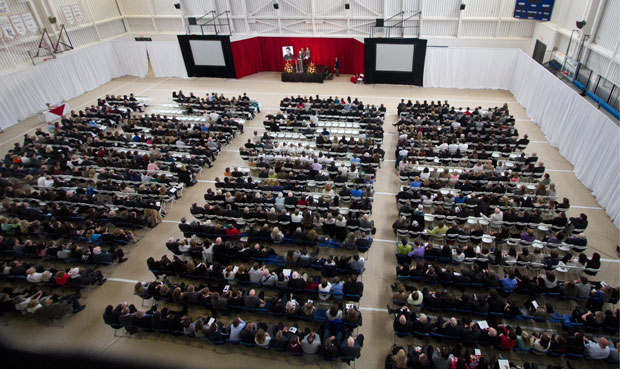 More than 1,000 people attend a service for Gord Sleivert at the Pacific Institute for Sport Excellence.
Photograph by:
Darren Stone, Victoria Times Colonist , timescolonist.com April 12, 2012
Numerous Olympic athletes, coaches and officials for the 2012 London Summer Games were among the more than 1,000 people who filled the Pacific Institute for Sport Excellence gymnasium for a memorial Thursday to honour Gord Sleivert, a leading Canadian sports scientist.
"He was always there for us," said swimmer Julia Wilkinson. "He believed in every one of us. He will be with us in London."
Sleivert, a graduate of Dunsmuir school in Colwood and the University of Victoria, died in Montreal on April 2 at age 48 after the Canadian Olympic swimming trials for London. He went back to his hotel room, saying he wasn't feeling well, and was found dead there. The cause of death has not been announced.
Sleivert was vice-president since 2003 of Canadian Sports Centre-Pacific, where numerous Canadian Olympians train in Victoria, Whistler and the Lower Mainland. He was based at the Victoria venue located in the PISE facility on the Camosun College Interurban campus.
PISE was described during the memorial as being designed in large measure through Sleivert's vision.
"It's amazing to see where this training centre has come from where it started," said Beijing Olympic-medallist swimmer Ryan Cochrane, who will compete in London. "It makes you appreciate all the things Gord helped accomplish."
Sleivert was a pioneer in the field of sport physiology and established innovative training systems and instruments. Wilkinson fondly recalled Sleivert labeling his training post-recovery drinks for the athletes as "margaritas."
"Gord reduced complicated scientific concepts to something everyone could understand and apply. He had an incredible gift," said Clint Hamilton, UVic athletic director.
Wendy Pattenden, president of Canadian Sports Centre-Pacific, said Sleivert was dedicated to achieving sporting excellence. "He was tirelessly committed to the athletes," she said.
"He said we need to be better than world class. That's what Gord would want and what we are going to strive to do."
Swimming Canada CEO Pierre Lafontaine said: "Gord is one of the people who helped me rebuild Swimming Canada. The performances we will have in a couple of months [at London] will be directly related to him."
Sleivert is survived by wife Kari and children Benjamin and Brianne, both 15, and Lachlan, 12, and was remembered warmly as an adoring husband and father. That included getting involved with his children's sporting activities, which included the Sooke Minor Hockey Association, where he was once president and development co-ordinator. Many coaches and young players from the Sooke association were among those at the memorial.
cdheensaw@timescolonist.com
> A fund has been established in support of the Sleivert children's educational and athletic pursuits. To donate, visit any TD bank and make a deposit by indicating the branch No. 9911 and account No. 6052008.
We thought you might also be interested in..