Saanich district teachers halt after-school activities
Apr 13 2012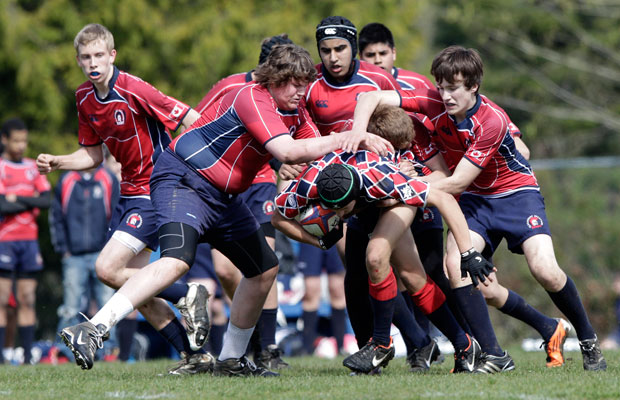 A rugby match Thursday pits Claremont High School against All Saints College, of Bathhurst, Australia.
Photograph by:
Lyle Stafford, Victoria Times Colonist , timescolonist.com April 12, 2012
The Saanich school district announced Thursday that it has cancelled elementary school sports and extracurricular activities for the rest of the year after teachers stopped volunteering as coaches and supervisors in protest against Bill 22.
"Athletic activities such as cross-country or track and field, as well as other extracurricular activities like drama or choir will not take place," the district stated in a notice posted on its website.
A number of middle school sports have also been scrapped and other programs are in jeopardy. Most secondary school sports, however, are going ahead under teacher coaches supported by authorized parent and community volunteers.
The district ruled out using parents and community members for elementary school because of liability issues, a shortage of supervisors and the difficulty finding enough qualified people to run the programs, the notice said.
Saanich board chairman Wayne Hunter expressed regret that the district was unable to go ahead with a number of sports and activities.
"I'm very disappointed and basically apologize to the parents for these things taking place," he said in an interview. "What makes up a school is more than just the learning in the classrooms. It's got to do with how the kids are involved with their teachers, with their parents and with all those people together going to Grade 5 camps or setting up blood donor clinics."
The Saanich Teachers' Association, like many other teachers' unions, recently voted to withdraw volunteer services in response to Bill 22, which forced an end to teachers' job action and imposed a cooling-off period in their contract dispute with the B.C. government.
Sooke teachers approved a similar motion, while Greater Victoria teachers are waiting for a provincewide vote by the B.C. Teachers' Federation on Tuesday and Wednesday. The union says the new law undermines teachers' rights and will worsen classroom conditions.
Sooke superintendent Jim Cambridge said the impact of the teachers' decision to withdraw from extracurricular activities varies in his district. A number of high school teams are relying on parents or community volunteers, while at elementary and middle schools "there will be lots of things cancelled this year."
In Greater Victoria, high school sports are going ahead, but the situation varies for middle and elementary students depending on their school, associate superintendent Pat Duncan said. In some, sports, music and clubs are carrying on, while in others, teachers are declining to participate.
Tarj Mann, president of the Greater Victoria Elementary School Sports Association, said district-wide meets are going ahead as planned. Schools are gearing up for the start of cross-country season next week, with track to follow.
"Right now, no vote has taken place," he said. "That happens next week and we'll wait and see and respond as best we can after that."
Ken Lowe, president of the Lower Vancouver Island Secondary Schools Athletic Association, acknowledged the confusion caused by the differing situations in each district. But he said high school track and field, girls' soccer, boys' rugby, tennis and badminton are all going ahead.
Heather Lederis, the association's athletic co-ordinator, said a couple of schools have dropped out of competitions. "But everything is operating at 98 per cent of usual capacity."
It's a different story for the Lower Island Middle School Sports Association, which has decided to put events on hold until after next week's union vote, Lederis said.
"They were later to start," she said. "So they said, 'Hey, we're going to wait until the outcome of the vote before we start ramping up our organizations.' So there's definitely been an impact."
The B.C. Labour Relations Board has scheduled a hearing for Monday to determine whether teachers' refusal to write report cards for students this month amounts to an illegal strike, as alleged by their employers.
B.C. Teachers' Federation president Susan Lambert said teachers have no intention of doing work that was discontinued as part of a job action that began in September and ended March 16 when Bill 22 became law.
Apart from marks required for graduation purposes, no report cards will be issued until the end of the school year, she stated.
lkines@timescolonist.com
— With a file from Postmedia News
We thought you might also be interested in..