Her job is listening to stories of survival
Apr 13 2012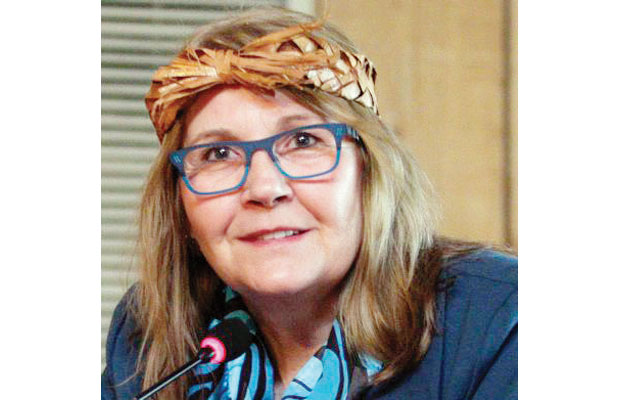 Marie Wilson often stuggles to hold back tears.
Photograph by:
Lyle Stafford , timescolonist.com (April 2012)
There are times that Truth and Reconciliation Commissioner Marie Wilson finishes a day of hearings and heads for a hot bath and a good cry.
That happens after she has struggled to hold back tears while listening to stories from residential school survivors, not wanting to discourage anyone with the courage to publicly unearth their memories.
"My job, in some ways, is easy because I say to myself: 'All I have to do is hear this. I didn't have to live it.' So that helps a lot," said Wilson, who shares the task of listening to the stories with commission chairman Justice Murray Sinclair and Chief Wilton Littlechild.
The Truth and Reconciliation Commission of Canada was formed as part of the Indian Residential Schools Settlement Agreement with the mandate to inform Canadians about what happened in the schools. It has federal government support in an effort to facilitate reconciliation and understanding between aboriginal people and Canadians.
Although many of the stories Wilson hears are gut-wrenching, she said the process can also be inspiring.
"There is tremendous dignity, courage and resilience and people who want to report what they have done to make positive changes in their lives, and that's all hopeful," she said.
"When you hear people say, 'This has lightened my load and contributed to my healing,' that's very uplifting."
The TRC regional event will be held at Victoria Conference Centre and the Fairmont Empress today and Saturday.
Commissioners are hoping many non-aboriginal people will come and learn more about the legacy of residential schools.
At similar events across the country, the public has been well represented, including church congregations, who have helped in organizing events, Wilson said.
"I wish there was more presence from the federal government," Wilson said. "It has been very exceptional to have anyone who identifies themselves as representing government at these hearings, and I wish that was not the case. There's a lot to be said about the symbolism of that."
The story of residential schools is one of the most important and untold stories in Canada's history, but gradually, non-aboriginal people are starting to gain more understanding, Wilson said.
The opening ceremonies start at 8.30 a.m today at the Crystal Gardens, followed by sharing panels, a lunch and a town hall on reconciliation moderated by broadcaster Shelagh Rogers, all held at the Conference Centre.
On Saturday, there will be a human rights panel with a keynote address by B.C. representative for children and youth Mary Ellen Turpel-Lafond.
jlavoie@timescolonist.com
We thought you might also be interested in..