City agencies fear end of tax break
Apr 14 2012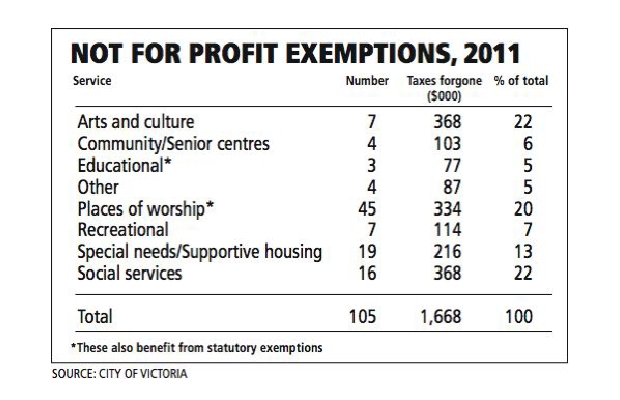 Not for profit exemptions, 2011
Photograph by:
., timescolonist.com
Victoria councillors, keen to cut costs, are eyeing the long-standing property tax holiday that a number of Victoria's social, community and arts and cultural agencies have come to depend on.
But some agencies say reduction or elimination of the tax exemption would be too much to take.
The city currently forgives more than $1.6 million a year in property taxes to a groups as diverse as the Art Gallery of Greater Victoria, the Belfry Theatre Society, the Victoria Cool Aid Society, the SPCA, the Canadian Pacific Lawn Bowling Club and the YM/YWCA.
"I'm looking at $1.68 million and, having struggled over the past few months to find a few hundred thousand to drop our tax increase by a quarter of a per cent, I look at that and my eyes light up," Coun. Marianne Alto told the city's corporate services committee this week.
"I don't know what that looks like, but I think the fact that we are in a position where we must look for new revenue or at least look at different unique ways to hold our tax increases - we have to look at this," she said.
Victoria Conservatory of Music CEO Jane Butler McGregor said elimination of her organization's tax exemption - even if it was phased in - might be the last straw that forces it to relocate.
"Typically, not-for-profits have always been tax-exempt, and if, that were to be reversed, it would be devastating for a not-for-profit organization like ourself. Obviously, we would be forced to re-evaluate our location," said Butler McGregor.
The city forgives the conservatory about $72,000 a year in taxes on its property in the troubled 900-block of Pandora Avenue near the Our Place street drop-in centre.
The largest single exemption granted is $88,210 to the Craigdarroch Castle Historical Museum Society. Loss of the tax forgiveness would be "pretty huge," said Craigdarroch executive director John Hughes.
"That would be most of the revenues we would get off of the cruise-ship industry and that's not profit, that's total revenues. So it's a big thing for us," he said.
The $1.68 million in tax forgiveness balloons to a total of $2.4 million if the 10-year tax holiday for seismic upgrades of heritage and revitalizations is factored in. Add in the grants that the city doles out every year and the total is $5.1 million.
Members of the city's corporate services committee are looking at options including: limiting approval of new exemption applications; reducing tax forgiveness 10 per cent a year over a period of years; or putting tax forgiveness on an approval cycle.
Consultant Peter Adams told the committee that tax exemptions, as a rule, get little scrutiny by governments.
"Quite often, they are not even thought of as being real money. Once awarded, they're often rarely changed. So once you're in, you get it forever," he said.
Coun. Shellie Gudgeon suggested that, at the very least, organizations should be sent a property tax bill outlining the benefit they are receiving. And there should be a quid pro quo, she said.
"I think if there's a quid pro quo somehow built into our policy that, for this, we expect that you are going to use your volunteer labour; that you're painting and you're not cheaping out on maintenance - you're sending the right message that we're all in this together."
The committee wants the policy examined by all of council. The earliest any change could be introduced is likely 2014.
ON THE WEB: To see a list of types of tax-exempt groups and a list of the top 10 beneficiaries, go to this story on timescolonist.com
bcleverley@timescolonist.com
We thought you might also be interested in..