Pelican finds feathered friend
Apr 14 2012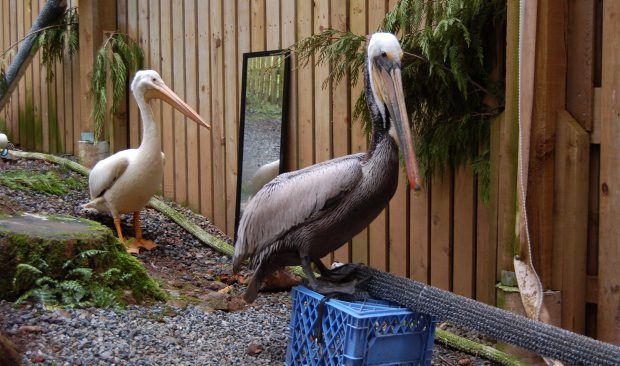 A brown pelican, rescued from a crow attack in Prince Rupert, has arrived at the B.C. SPCA's Wild ARC in Metchosin and has been introduced to Pelly 26, an American white pelican from Manitoba, who has been in rehab at the Wild ARC since November.
Photograph by:
Supplied photo, Wild ARC , timescolonist.com
Being alone can be a real downer if you're a flock animal.
Which is probably why Pelly 26 is welcoming a new companion, even though he's a strange colour.
A brown pelican rescued from a crow attack in northern B.C. has arrived at the B.C. SPCA's Wild Animal Rehabilitation Centre in Metchosin and is keeping company with an American white pelican from Manitoba, which is waiting to be flown home next month.
"Since pelicans are flock birds, they tend to get depressed when kept alone in captivity," said Christina Carrieres, Wild ARC wildlife rehabilitator.
Since the white pelican - nicknamed Pelly 26 - arrived at Wild ARC in November after failing to fly south with the rest of the flock, staff have hoped another pelican might arrive to keep her company, even though that was unlikely, Carrieres said.
Brown pelicans are not common in B.C., although their range is expanding northward.
The bird came from the Prince Rupert Wildlife Rehab Centre, which didn't have suitable accommodation for the pelican, which was weak and suffering from an infection.
The pelican also had frostbite on one foot and bruising on its pouch, but after a week in isolation in Metchosin and treatments with anti-inflammatories and antibiotics, the male bird is now doing well and has been transferred to the largest flight pen with the white pelican.
"The introduction was successful. They got along right away, with no signs of aggression from either one of them," Carrieres said.
"The white pelican appears to be a bit more comfortable and active now that she has a companion."
If the brown pelican continues to recover well, he will be released on the west coast of Vancouver Island about the same time his white friend leaves for Manitoba.
The two pelicans are gobbling down large quantities of fish, but Kari Marks, Wild ARC manager, said the centre's fishy worries are over, as the Blue Water Bait Co. of Victoria has offered to give Wild ARC all the fish it needs for a year.
"It is a huge thing for us. It's really cool," Marks said.
jlavoie@timescolonist.com
We thought you might also be interested in..