All dogs go to heaven - in this case, Victoria
Apr 14 2012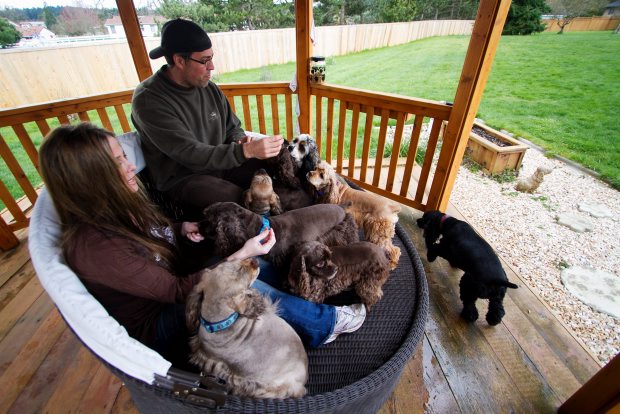 Lisa Atterby and Tony Rich with some of their 13 cocker spaniels.
Photograph by:
Darren Stone , timescolonist.com (April 2012)
Tony Rich fixes himself a cup of coffee at the spacious Victoriaarea home he shares with his wife, Lisa Atterby.
The inscription on the cup says it all: "After the dog, Honey, of course, you're No. 1."
Well, sort of. On this day, it's not just one dog but 13. Some days there have been as many as 21 dogs here, but while the numbers change, the breed doesn't.
All of the dogs are cocker spaniels, the most popular breed in the United States for 25 years, beginning in 1936, until the beagle bounced them from No. 1.
Atterby developed her passion for the former top dog more recently. The 41-year-old grew up with an English cocker spaniel called Trekka and got her own first cocker spaniel at age 26 - a little black bundle called Buddy.
"He was such a gentle soul - just an amazing, smart dog. I'd come home on my lunch break every day, and he'd be waiting by the window. He was so loyal," she said.
Now it's Atterby who could be described as loyal - to the breed.
She and Rich personally own six cocker spaniels - Teddy, Owen, Carly, Bella, Cody and Levi - who run the gamut of cocker colours and personalities, from rambunctious to shy.
All but one of their dogs were rescued from U.S. "high-kill" shelters that put down unwanted or unfriendly dogs.
Owen was her first rescue. He was from Oklahoma and although a healthy fivemonthold, he was scheduled to be euthanized.
By checking online, Atterby finds cocker spaniels in shelters and works with the Los Angelesbased non-profit organization Camp Cocker, which helps transport the dogs to Canada. Atterby opened her own rescue organization in 2008 and named it Angels Under Our Wings.
Dogs from the United States are allowed into Canada provided they have rabies shots.
In B.C, there are few people breeding cocker spaniels, so they seldom wind up in local shelters.
In the U.S., where the breed is more popular, Camp Cocker volunteers find as many as 10 dogs every week in the high-kill shelters volunteers monitor near Los Angeles.
To date, Atterby's organization has rescued more than 200 dogs.
She runs Angels Under Our Wings out of the couple's home, dedicating their one-bedroom suite to the dogs (although the dogs are free to roam throughout the couple's main floor and run outside on the spacious lawn through a doggie door).
There are tidy pens for them to sleep in the suite's bedroom, doggie day beds scattered throughout the living room in front of the large flat-screen TV, and dog bowls lined up along one wall of the suite's kitchen.
There's also a "workshop" on the one-acre, fenced property that houses the dogs needing rehabilitation.
It's a full-time job for Atterby, who considers herself lucky to have a husband willing to share his living space with so many dogs. The last time the couple took a vacation was on their Maui honeymoon eight years ago.
But Rich, who has a full-time job working as a baker at Thrifty Foods, takes it all in stride.
"There are no days off. But how many people can say when they leave this planet that they helped? Well, I can. I know in heaven I won't have to pick up dog poop," said Rich, regarding one of the many volunteer tasks he does for the organization.
We thought you might also be interested in..