One year after fuel spill, fish released into Goldstream River
Apr 15 2012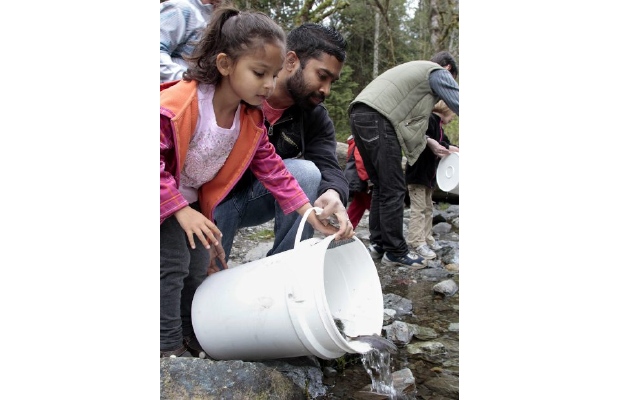 Four year Keira Pereira and her dad Elton help release some 3000 Coho smelt into the Goldstream river.
Photograph by:
Lyle Stafford , timescolonist.com (April 2012)
About 3,000 coho salmon were introduced into the Goldstream River on Saturday, a day when the provincial government was updating the public on the environmental cleanup efforts in the area after a fuel spill a year ago.
Remediation work near Goldstream Provincial Park began immediately after a tanker-truck crash that spilled thousands of litres of fuel, killing much of the plant and animal life.
About 617 tonnes of contaminated soil has been removed and water quality has improved dramatically, according to provincial government testing that indicates measurements of hydrocarbons have been below detection levels since the end of July.
Members of the Goldstream Hatchery were on site Saturday to help release the coho into the river. Staff with the Ministry of Environment were also there to answer questions from the public.
"Putting the salmon in is one way of giving back to the environment one year after the accident," said Laurie Boyle, emergency planning response officer with the ministry.
Chum salmon returned to spawn in the river despite the pollution, but coho and chinook numbers were down, according to the Goldstream Hatchery.
Columbia Fuels is responsible for the cleanup. One of its drivers, James Allan Charles Smith, crashed the tanker truck that released more than 42,000 litres of gasoline and 650 litres of diesel.
Contaminants drained from the road into the adjacent Goldstream River, through the estuary and into the ocean.
The company has worked with the ministry to ensure a proper cleanup, which could take several more years.
Columbia Fuels would not disclose the costs for the work. dspalding@timescolonist.com
We thought you might also be interested in..