Less garbage, less guilt
Apr 15 2012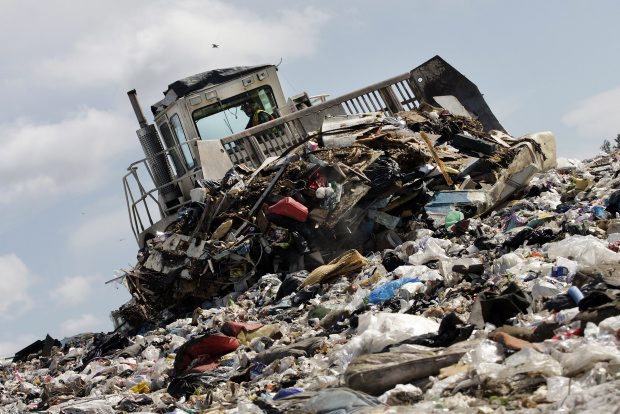 A packer works through a mountain of garbage at Hartland landfill. As of 2015, kitchen scraps will be banned from the landfill.
Photograph by:
Lyle Stafford , timescolonist.com
The Capital Regional District is easing kitchen guilt.
A new bylaw means that instead of tossing slimy vegetables and mouldy bread into the garbage, they'll go into a recycling-type bin and eventually become high-grade compost.
As of 2015, kitchen scraps — everything from bones to greasy paper towels — will be banned from the Hartland landfill.
The lead-in time of nearly three years gives people a chance to get used to a new way of dealing with organic waste, estimated to make up 40 per cent of household garbage.
Ideally, the program would run much like recycling. Scraps would be tossed into a small indoor container, then transferred to a larger wheeled outside bin. On collection day, the contents would be taken to a plant for processing.
Kitchen-scrap collection is done in many cities throughout North America, as municipalities deal with finite resources and land for garbage, and a growing desire to "do the right thing."
It is estimated that the Hartland landfill will be full by 2035. Diverting kitchen waste — which now makes up 30 per cent of the landfill — could extend its life 12 years.
But the process has its critics, who worry about hygiene, an increase in rodents and the impact of processing plants on neighbourhoods.
"There's no doubt there will be a lot of questions and education will be key," said Russ Smith, the CRD's senior manager of environmental resource management.
"But these things are already in your garbage right now. We're not introducing a new waste stream, just dealing with [it] in a different way."
Smith has been struck with how keen residents and businesses are on the project, which was approved by the CRD board last week.
"There seems to be a significant interest in turning these scraps into a value-added resource, instead of them going to the landfill," he said.
"Another consistent message we heard from the public is that they want to do the right thing and they really don't like putting scraps in the garbage."
Several municipalities in the region already have kitchen-scrap collection or are planning to start it. Each municipality will determine how it picks up and disposes of the waste in order to comply with the CRD ban.
The CRD will offer a rebate of $20 per tonne for separated loads of kitchen scraps in 2013 and 2014.
As well, a 20 per cent surcharge will be added in 2014 to any garbage loads containing kitchen scraps that go to Hartland.
The CRD will be issuing short-term tenders for processing, but doesn't envision looking after it in the long term. It sees the private sector stepping in to take advantage of a ripe business opportunity: The region has about 30,000 tonnes of kitchen scraps each year — an amount CRD staff estimate could generate 17,000 tonnes of finished compost.
There are some processors in the region, but none large enough to deal with that volume.
kwestad@timescolonist.com
We thought you might also be interested in..