Hundreds rally in Victoria against proposed Northern Gateway pipeline
Apr 16 2012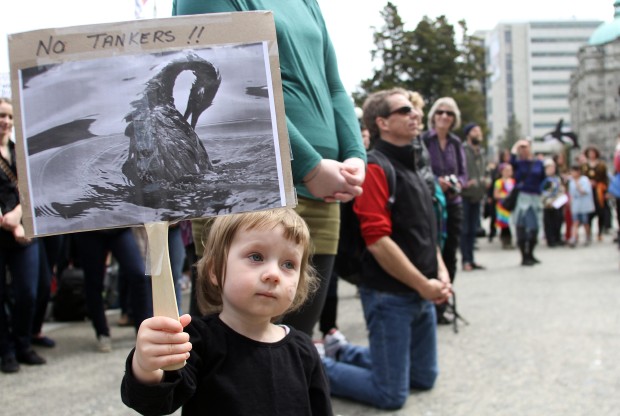 Holly Ladret, 2, takes part in a protest against the proposed Northern Gateway pipeline in front of the B.C. legislature on Sunday, April 15, 2012.
Photograph by:
Adrian Lam , timescolonist.com
Leila Darwish says too many communities will be destroyed should the proposal for a $5.5-billion oil pipeline between Alberta's oilsands and Kitimat win approval.
On Sunday, she and about 800 others in Greater Victoria became the latest part of a growing protest against the proposed Enbridge Inc. Northern Gateway pipeline.
The group swarmed the lawns of the B.C. legislature late Sunday morning before the crowd took over the downtown streets in a march to Centennial Square.
Hundreds spent the afternoon in outdoor workshops that explained concerns over the Enbridge proposal and other mega-energy projects in the province while teaching people how to get others involved in the protest movement. The main goal was to highlight the economic, environmental and social impact of the proposed pipeline.
"Oftentimes, you go to a rally, you yell at an empty building and you go home — and it's ridiculous," Darwish said. "A lot of us wanted to hold a rally and then go into something else where people could learn more about this. Now, hopefully, the conversation will continue so people can meet up again."
The planned 1,173-kilometre pipeline would be designed to open Canada's oil to new markets in Asia. Calgary-based Enbridge defends its project as a major job producer, but critics say there are too many environmental risks.
Opposition is growing. A survey from Forum Research released Thursday showed 52 per cent of 1,069 adults polled in B.C. in a random telephone survey April 11 were opposed to the project, up from 46 per cent in January.
A petition opposing the pipeline put forward by the Victoria-based Dogwood Initiative, a self-described non-profit public interest group, has collected more than 100,000 signatures. That figure is up from 60,000 in January, said Celine Trojand, a Dogwood organizer from Victoria.
She held a workshop on Sunday to inform interested people about taking direct action, giving them tools to spread their message.
Trojand told her listeners that they can find support in even the most surprising places.
"I remind myself that there are allies everywhere," she said. "People want to help other people, and this is an issue where British Columbia isn't going to have much to gain from this project. The majority of people are on side. They just need to have a conversation where they feel comfortable."
Sunday's protest was inspired by a film screening at a recent house party, Darwish said. She and a few guests saw the documentary On the Line, which follows eco-adventurers Frank Wolf and Todd McGowan by foot, bike, raft and kayak along the terrain being proposed for the pipeline.
Moved by what the filmmakers present as the negative impacts of the pipeline, Darwish and some like-minded guests who attended the party that night wanted to follow up their experience by joining the opposition in a big way.
Organizing Sunday's event proved to her that people are ready to speak out, she said.
"You don't have to be part of an organization or be connected to get something going," Darwish said. "It could just be a few people sitting in their living rooms, calling everyone they know."
Enbridge says the pipeline and a new marine terminal in Kitimat, if completed, would provide more than 500 permanent jobs in British Columbia and 3,000 temporary jobs during construction.
The project would really be a twin-pipeline enterprise, with the other terminus at Bruderheim, Alta. The westbound pipeline would export crude oil to the terminal. The eastbound line would import natural gas condensate.
The oil would be shipped by tankers to Asian markets.
dspalding@timescolonist.com
We thought you might also be interested in..