E&N rail repair bill: $20 million
Apr 17 2012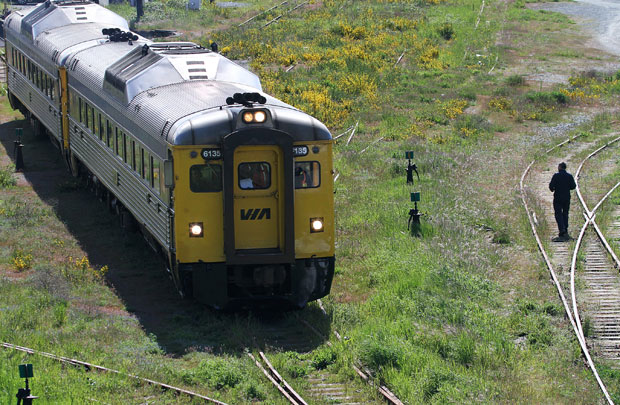 Via Rail passenger service on the E&N line has been suspended indefinitely pending necessary repairs.
Photograph by:
Adrian Lam , timescolonist.com
The new price tag for restoring passenger service along the E&N Railway comes to $20 million, with a new engineering study outlining repair costs for the line's 48 bridges and trestles.
An estimated $5.4 million is required to upgrade the structures between Courtenay and Victoria for the next 10 years of operation.
That figure jumps to $34 million when considering additional freight service over the next 30 years.
The Island Corridor Foundation, which owns and manages the line, must come up with the $5.4 million on its own. Both the provincial and federal governments already agreed to split the $15-million cost to replace decaying ballast, joints and rail ties.
"This certainly isn't the last dollar that's going to be spent," said B.C. Transportation Minister Blair Lekstrom, adding that any additional cash will come from local governments.
The foundation's chief operating officer, Graham Bruce, recognizes he has to look elsewhere for funding. He said he has plans to apply for grants through the Island Coastal Economic Trust.
This is just one example of where Bruce plans to seek out new funding, but he would not give further details. He says he will have the money by October, when construction work for the ballast and rail ties is expected to be underway.
"It's now up to us to go out and find that money," he said. "I can't say where it will come from yet.
You're going to have to let me do the work until I know more."
The bridge and trestle study, conducted by Associated Engineering, provides incremental cost estimates for upgrades to the track over the next 10, 20 and 30 years.
Restoring passenger service will cost $20 million, but the work will also maintain the current freight service and provide the opportunity to add more freight as the line improves.
If operator Southern Rail can pick up new contracts to ship product up and down Vancouver Island, the Island Corridor Foundation can target and repair sections of the track required for each new product.
"We thought [the report] was extremely good news from our perspective," Bruce said. "This allows us to manage and to plan what needs to be done through our incremental approach."
dspalding@timescolonist.com
We thought you might also be interested in..